John Mayer, Who Once Referred to His Genitals as a 'White Supremacist,' Flirts With Nicki Minaj on Twitter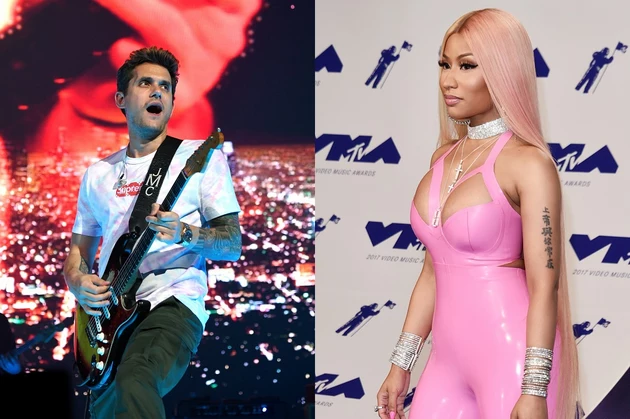 John Mayer and Nicki Minaj engaged in a seemingly charming exchange on Twitter over the weekend.
On Friday, Mayer tweeted that he was wondering if "Nicki Minaj would like [him] or not."
I spend an inordinate amount of time per day wondering if Nicki Minaj would like me or not.

— John Mayer (@JohnMayer) September 8, 2017
It didn't take long for Minaj to tweet back, asking the singer if her body would be his "wonderland," referencing his 2001 hit, "Your Body Is a Wonderland."
Naturally, Mayer "lost his s—" over the fact that the rapper had taken the time to reply to him.
Would my body be your wonderland? https://t.co/jKpRdnhzbD

— NICKI MINAJ (@NICKIMINAJ) September 8, 2017
Please hold, losing my shit. This isn't my reply yet.

— John Mayer (@JohnMayer) September 8, 2017
Despite the seemingly innocuous flirtation, however, many Twitter users have pointed out how racially insidious Mayer's comments are, pointing to a 2010 interview with Playboy in which the musician referred to his genitals as a "white supremacist."
When asked if black women throw themselves at him, the musician responded, :"My d— is sort of like a white supremacist. I've got a Benetton heart and a f—ing David Duke cock. I'm going to start dating separately from my d—."
See some tweets about the controversy, below:
*sees John Mayer flirting with Nicki Minaj on Twitter*

*recalls him comparing his dick to a white supremacist 7 yrs ago in Playboy*

— Sylvia Obell (@SylviaObell) September 9, 2017
oh, nicki minaj is twitter-flirting with john mayer? that's cu–

*remembrance harp plays* pic.twitter.com/M6zILj6Yyz

— Bim Adewunmi (@bimadew) September 9, 2017
Wonder no more! pic.twitter.com/axlp5dB8Wt

— Cody Johnston (@drmistercody) September 8, 2017
Nicki Minaj's Hottest Instagram Photos:

Source:
John Mayer, Who Once Referred to His Genitals as a 'White Supremacist,' Flirts With Nicki Minaj on Twitter