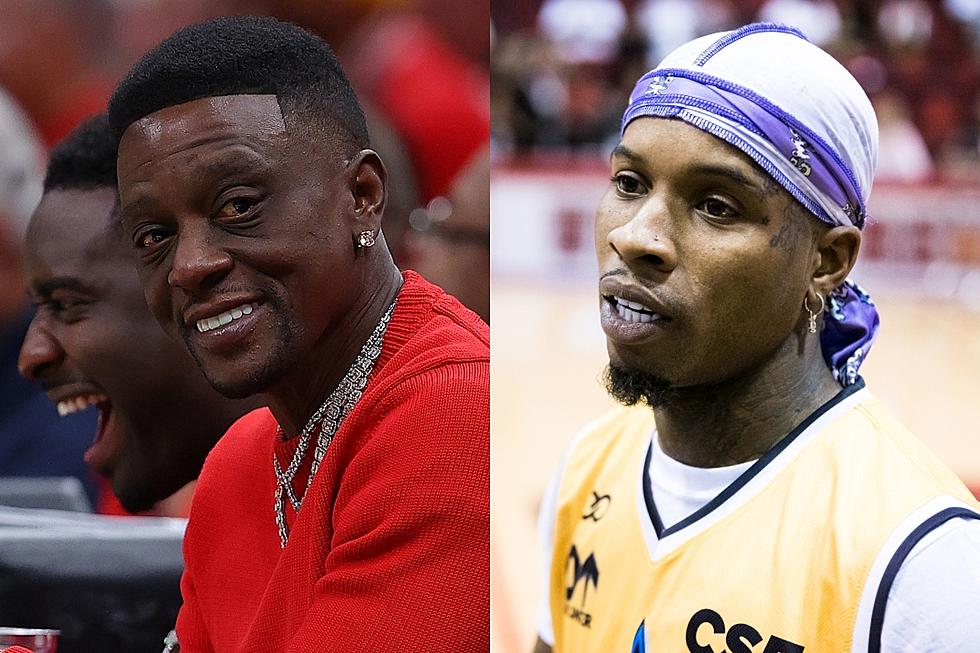 Boosie BadAzz Feels Tory Lanez Will Only Do Three Years, Make a Strong Comeback
Kevin C. Cox/Greg Doherty/Getty Images (2)
Boosie BadAzz thinks Tory Lanez will only serve less than half of his 10-year sentence for shooting Megan Thee Stallion and will be back better than ever when he gets released.
Boosie Weighs in on Tory Lanez Sentence
On Tuesday (Aug. 8), a judge handed down a decade-long prison sentence for Tory Lanez as punishment for shooting Megan Thee Stallion in the foot back in July of 2020. Never one to hold his tongue, Boosie weighed in on the sentence on Instagram following the announcement.
"He ain't gon' do nothing but three years on that," Boosie opines in the video below. "Louisiana, he would have got 40 [years]. I got 10 years for third-offense marijuana. Twenty-five grams, a couple grams and some more grams. He'll be back, stronger than ever. You can't take his talent away. He gon' be back."
Boosie Thinks Tory Should Have Taken Plea Deal
Boosie previously stated he is of the opinion Tory should have taken a plea deal in the case.
"If he would have went in there and said he wanted to make a deal, [with] them lawyers he got, he could have been doing time in a facility with damn-near nobody around him," Boosie said during an interview on VladTV back in May.
"I know a lot of people like that. They was offered 10 years and they didn't take it. And they end up getting 30," Boosie continued. "I seen it all the time. When I was in [prison] they come in there like, 'I ain't doing no 15, mane.' They end up getting big time. I would have tried to get five years."
See Boosie weighing in on Tory Lanez's sentence for shooting Megan Thee Stallion below.
Watch Boosie BadAzz Give His Opinion on Tory Lanez's 10-Year Prison Sentence
See 44 of the Longest Prison Bids in Hip-Hop History
C-Murder, Max B, B.G. and more.