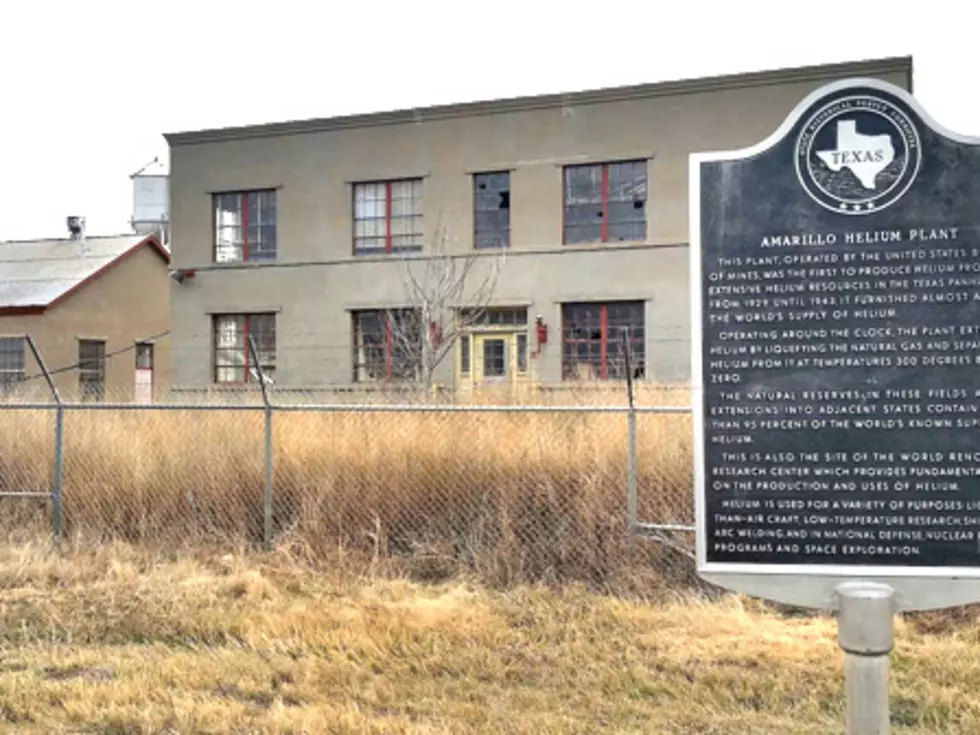 Amarillo Helium Plant To Be Auctioned Off. History Being Sold.
Preservationtexas.org
A lot of us dream of owning something unique or historic.
Something so historic that people are absolutely wowed when they find out you are in possession of it.
Well, it would appear now is your chance to own that piece of history. The U.S. General Services administration is all set to auction off a federal helium system just north of the city.
So what exactly is the historic building? The historic marker out at the old plant says the following:
"This plant, operated by the United States Bureau of Mines, was the first to produce helium from the extensive helium resources in the Texas Panhandle. From 1929 until 1943, it furnished almost all of the world's supply of helium. Operating around the clock, the plant extracts helium by liquefying the natural gas and separating helium from it at temperatures 300 degrees below zero. The natural reserves in these fields and in extensions into adjacent states contain more than 95 percent of the world's known supply of helium. This is also the site of the world renowned research center which provides fundamental data on the production and uses of helium. Helium is used for a variety of purposes: lighter-than-air craft, low-temperature research, shielded-arc welding; and in national defense, nuclear energy programs and space exploration."
I mean, it doesn't get cooler than owning something that is historical enough to garner a marker on its site. I'd say that's a pretty unique thing to be able to claim.
So, let's say you want to get in the bidding. Here's what you're going to get if you pull out the winning bid.
You're going to land yourself a whopping 38,000 acres. Yes, you read that right. You'll be the proud owner of the mineral rights, gas wells, and pipeline that runs from Texas to Kansas. To sweeten the pot, they're throwing in the 10-acre maintenance station in Santana, Kansas.
Personally, I won't be in on the bidding. I'm not sure what the rules are, if there are any, as to what you can do with the property and land. There may be zero restrictions as far as I know.
If you want to jump in on it, the public sale will kick off in August.
LOOK: This "Amarillo Pictorial" is an Amazing Collection of Historical Photos!
Wow. Just wow.
Robbi McDaniel Rivers dug up this incredible magazine published in 1931. You'll find the many Amarillo buildings and landmarks that you know and love--they're brand new in these photos!
Enjoy!
The Drive-In: Amarillo's Classic Drive-In Theaters, Past and Present
Any resident of Amarillo worth their salt knows about the Tascosa Drive-In movie theater.
But did you know about the other drive-in theaters?