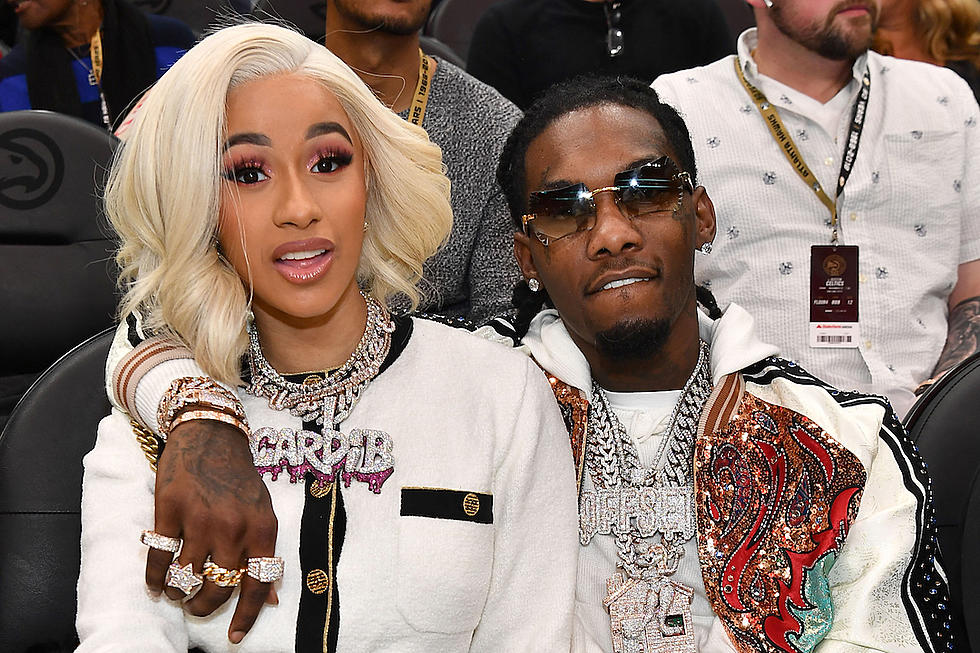 Cardi B Insists Breakup With Offset Was Not for Publicity
Paras Griffin, Getty Images
Nearly a week after Cardi B and Offset announced their sudden breakup, there are some fans who are still skeptical about their separation.
Rumors are circulating on the Internet that the hip-hop couple's abrupt split was all a publicity stunt. Not so, says the "Mi Mami" rapper.
Cardi went on Instagram Live on Sunday night (Dec. 9) to shoot down rumors that her breakup with Offset was done for publicity.
"Y'all got to understand, there's a kid involved so there ain't no type of publicity that I would ever want that will have my daughter looking at me crazy when she's get older," she told her followers. "Y'all really be thinking that people just do anything for fucking publicity."
"I don't even give a fuck about publicity," she continued. "I be telling blogs not to even fucking post about me, so why would you even fucking think that I would put my fucking family in some bullshit?"
Cardi also assured her fans that she is doing fine after the breakup. "I'm doing petty good," she said.
The five-time Grammy nominee also addressed gossip that her relationship with Offset was fake. "Bitch, there's a certain thing call love you know? People do fall in love," she explained. "My relationship was never fake."
"I met this nigga, he was on my ass [and] I gave him a chance, and we fell in love with each other," she continued. "Things was not always gravy, because at the end of the day we are two different people."
"But we never did anything for fucking publicity," she added. "You think I got pregnant, could have ruined my career for fucking publicity? Y'all must be 10 years old for saying some dumb shit like that."
Cardi conceded that she may have went into her relationship with Offset too fast but in the end, "Shit happens. People fall in love. People get married. People have kids," she said.
"I don't regret anything. At the end of the day, I have my daughter. She's beautiful gorgeous, funny [and] I love her," she concluded.
Cardi also credited Offset with helping her out with her music career and making her much wiser about the business side of rap.
Speaking of Offset, it appears the Migos rapper misses his ex-wife. On Sunday (Dec. 9), he jumped on Twitter to announced that he still loves his better half. "FUCK YALL I MISS CARDI," he tweeted.
Listen to Card B talk about her breakup with Offset with below.
See Cardi B's Different Looks in 2018