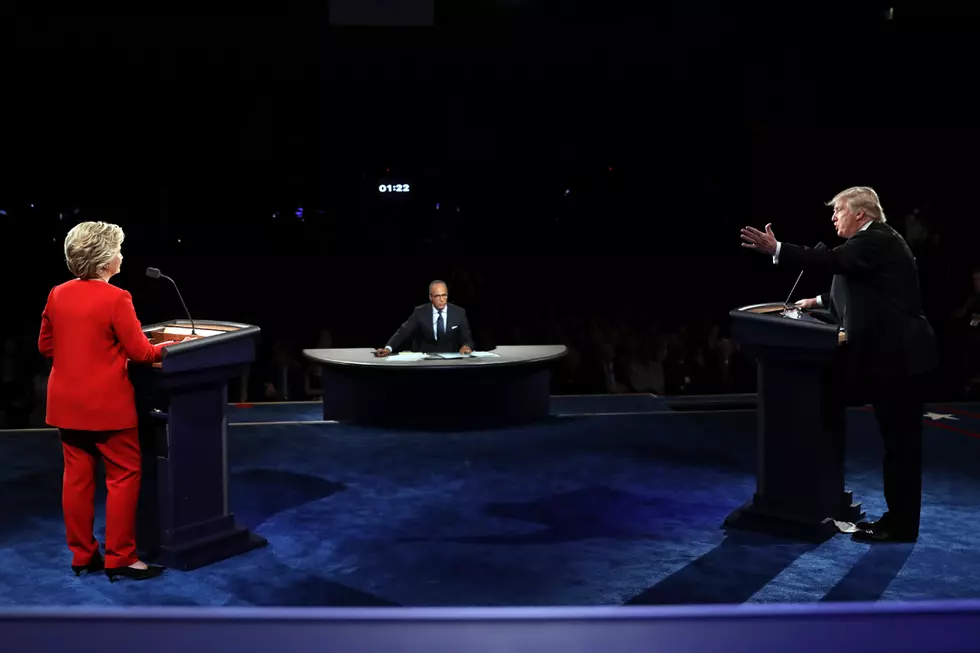 Clinton & Trump Battle Over Trade, Tax Returns, Temperament in First Debate
Joe Raedle/Getty Images
Hillary Clinton and Donald Trump's first face-to-face meeting Monday night was an energetic clash, with both candidates throwing big punches over 90 minutes. The debate covered a multitude of national issues, including trade policy, judgment and personal temperament, nuclear weapons usage, how to confront ISIS and what direction America should take.
In one notable exchange, Clinton challenged Trump on his refusal to release his tax returns, something every major presidential candidate has done since the 1970s. Trump countered, saying, "I will release my tax returns, against my lawyer's wishes, when she releases her 33,000 emails that have been deleted," referring to emails that were held on Clinton's private server during her tenure as secretary of state.
Clinton hit back, calling his response a bait-and-switch. "So you've got to ask yourself, why won't he release his tax returns?" she asked. "And I think there may be a couple of reasons. First, maybe he's not as rich as he says he is. Second, maybe he's not as charitable as he claims to be. Third, we don't know all of his business dealings, but we have been told through investigative reporting that he owes about $650 million to Wall Street and foreign banks. Or maybe he doesn't want the American people, all of you watching tonight, to know that he's paid nothing in federal taxes."
In one instant-reaction poll by CNN/ORC International, a set of 521 voters said that Clinton emerged the winner over Trump, by a landslide of 62 percent to 27 percent. Keeping in mind that this is a small sample with a high margin-of-error, 35 points is still a massive victory when compared with similar polls taken immediately after previous debates:
The candidates also interrupted each other numerous times, though by at least one count, Trump did it three times as much. Trump interrupted Clinton 51 times, Clinton interrupted Trump 17 times. On many occasions, while Clinton was answering one of moderator Lester Holt's questions or responding to Trump's comments, Trump would simply say, "Wrong," and Clinton would continue on with what she had been saying.
On social media, Trump was far more popular, or at least far more discussed. On Facebook 79 percent of debate-related mentions were about Trump, to Clinton's 21 percent, though that does not distinguish between positive and negative mentions. The top issues discussed were:
Taxes
ISIS
Racial issues
The economy
Crime and criminal justice
On Twitter, Trump also dominated:
The most frequently re-tweeted comment was one from Donald Trump himself. The tweet in question was referred to by Clinton during the debate, when she said that Trump had claimed that global warming was a hoax created by the Chinese. Trump denied ever having said that. However:
As for what the debate will mean for the outcome of the election, no one can tell, at least not yet. Sometimes debates do cause a shift in the polls, as happened in 2012 after Mitt Romney was widely considered victorious over President Obama in their first debate. Romney's numbers went up slightly and Obama's went down in polls taken soon after. That change was brief, though, with the polls quickly returning to where they had been, eventually ending in a 3.9-percentage-point win for Obama.
Most surveys taken right after last night's debate show that voters who had previously supported Clinton now support her more strongly, while Trump supporters support their candidate even more as well. Very few respondents said that they had changed their minds. Currently, in the Real Clear Politics average of polls, Clinton leads Trump by 2.4 points. In about a week, multiple national polls will reveal how Americans feel following this first debate of the 2016 presidential election campaign.