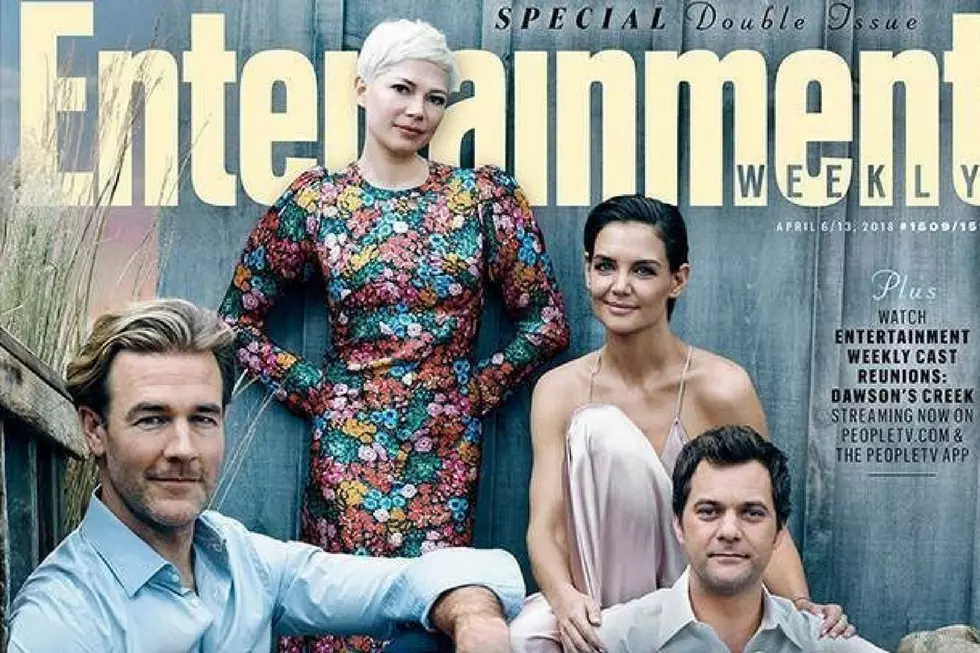 'Dawson's Creek' Cast Reunites for 20th Anniversary (PHOTO)
Marc Hom/Entertainment Weekly
Over a decade after Dawson's Creek wrapped its early 2000s reign, the cast has reunited for the 20th anniversary of the beloved teen soap's premiere, covering the newest issue of Entertainment Weekly.
"I remember loving the script," Van Der Beek recalled. "I remember thinking, 'Everybody's amazing, and all the actors were perfectly cast ... We didn't have any expectation it was going to blow up in the way that it did."
The series, which ran from 1998 to 2003, told the coming-of-age tale of four friends: aspiring filmmaker Dawson Leery (Van Der Beek), smart-mouthed tomboy Joey Potter (Holmes), charismatic slacker Pacey Witter (Jackson), and troubled NYC import Jen Lindley (Williams). It was widely praised for its fresh take on the teen genre and sharp, cerebral dialogue, quickly becoming a runaway hit and launching its young stars into overnight icons.
"I loved that we were able to get in there in those formative years for people," Williams, now a four-time Oscar nominee, reflected. "That's why people, I think, are so connected to it. When something affects you while you were growing up, it kind of stays in there forever. When you're so permeable and open and trying to figure out who you are and what's going on, whatever reaches you in those moments really becomes part of you."
Also joining in on the interviews were Busy Philipps (Audrey Liddell), Kerr Smith (Jack McPhee), Meredith Monroe (Andie McPhee), Mary Beth Peil (Evelyn "Grams" Ryan), executive producer Greg Berlanti, and creator Kevin Williamson, the latter of whom revealed a few untold stories about the casting process. Selma Blair, for example, was his first choice for the role of Joey until he received Holmes' audition tape, while Katherine Heigl (Grey's Anatomy, Knocked Up) could have played Jen.
"She looked slightly older at that time. Even though she was younger, I just think she was more mature," Williamson said of Heigl. "She gave a great audition, I remember we were all sort of like, 'Wow, she's good.'"
Entertainment Weekly's Dawson Creek cover story goes on sale Friday, March 30.
'Dawson's Creek': See Photos from Season 1