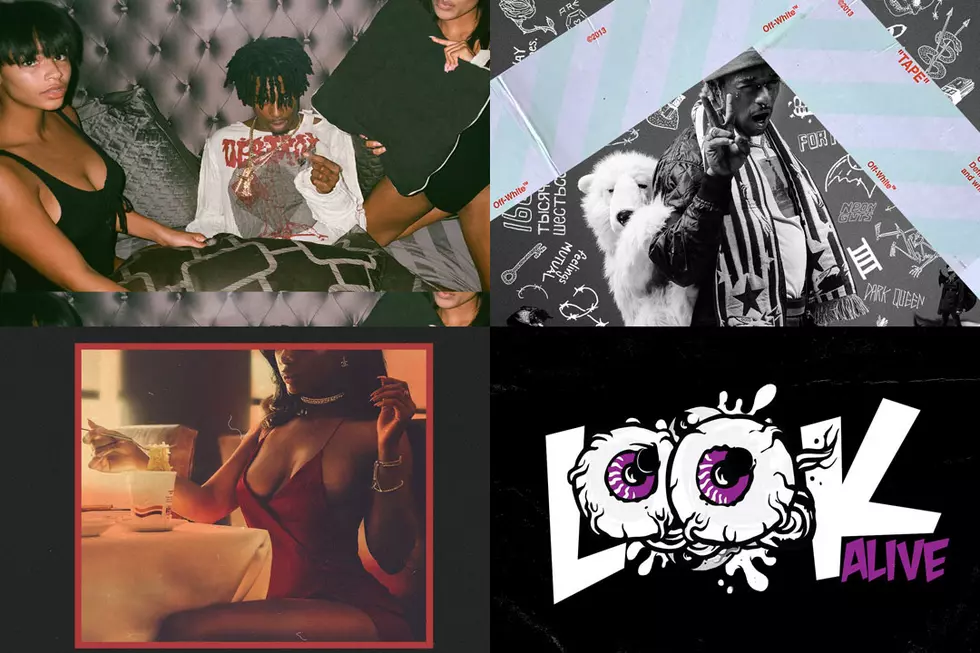 Here Are the Best Hip-Hop Hooks Over the Last Five Years
AWGE / Interscope Records / Atlantic Records / Quality Control Music / 300 Entertainment / Bloc Nation / OVO Sounds / Warner Records
Think back to the hip-hop songs that stay ingrained in the brain. There's usually one common thread throughout each. The rappers have crafted hooks that fit the vibe of their tracks so well that it's both memorable and easy to rap along to. With so many artists coming out of the booth with hits that stick, XXL highlights some of the best hip-hop songs with excellent hooks over the last five years. The lyrics within, pure catchy factor or how it was devised with the beat are all taken into account.
Some of the biggest hits in the last few years have benefitted from very well-made hooks. Lil Baby and 42 Dugg's "We Paid," the song that put Dugg on the map and became one of Baby's biggest hits, fits right under that umbrella. The refrain "Yeah, yeah, yeah, yeah, yeah, we paid," along with other parts of the song helped it rise to No. 10 on the Billboard Hot 100 last year. The same could be said for A$AP Ferg's "Plain Jane," with its compact chorus, rapped in the same cadence as the Three 6 Mafia 1999 classic "Slob On My Nob." Ferg's hit shot to No. 26 on the Hot 100 in 2018. Chorus-making is a specific skill; Ferg knew what would work here while also making something that fits his style.
There are also deep cuts with strong hooks. These tracks may have never became huge hits, but that sweet spot is perfect. DaBaby's "Carpet Burn," which is about exactly what you think it is, has a perfect, short hook that feeds right into his verse. The way its delivered is different from anything else on his 2019 debut album, Baby on Baby, and probably could have been bigger if it was less graphic. Future's "Goin Dummi" is another album cut with a flawless hook. Featured on the Atlanta's rapper's 2019 LP, The Wizrd, the production feels like an interstellar trip, but the chorus—about balling and staying safe—grounds it in reality.
Check out the best hip-hop hooks over the last five years below.
"XO Tour Llif3"

Lil Uzi Vert

"I don't really care if you cry/On the real, you shoulda never lied/Shoulda saw the way she looked me in my eyes/She said, 'Baby, I am not afraid to die'/Push me to the edge/All my friends are dead/Push me to the edge/All my friends are dead/Push me to the edge/All my friends are dead/Push me to the edge"—Lil Uzi Vert

"In New York, I Milly Rock/Hide it in my sock/Running from an opp/And I shoot at opp/Uh, uh/And I'm on the block/And I'm on the block/In New York, I Milly Rock/Hide it in my sock/Hide it in my sock/Selling that rerock/In New York, I Milly Rock/Hide it in my sock/Used to sell rerock/Runnin' from the cops/Shootin' at these opps"—Playboi Carti

"Bad and Boujee"

Migos featuring Lil Uzi Vert

"Raindrop (Drip), drop-top/Smokin' on cookie in the hotbox/Fuckin' on your bitch, she a thot, thot/Cookin' up dope in the crockpot/We came from nothin' to somethin', nigga/I don't trust nobody, grip the trigger/Call up the gang and they come and get ya/Cry me a river, give you a tissue/My bitch is bad and bougie/Cookin' up dope with a Uzi/My niggas is savage, ruthless/We got 30s and hundred-rounds, too/My bitch is bad and bougie/Cookin' up dope with a Uzi/My niggas is savage, ruthless/We got 30s and hundred-rounds, too"—Offset

"Look Alive"

BlocBoy JB featuring Drake

"901 Shelby Drive, look alive, look alive/Niggas came up on this side, now they on the other side/Oh well, fuck 'em, dawg, we gon' see how hard they ride/I get racks to go outside and I split it with the guys/We up on the other side, niggas actin' like we tied/I've been gone since, like, July, niggas actin' like I died/They won't be expectin' shit when Capo go to slide/'Cause I told them that we put that shit behind us but I lied"—Drake

"Baby girl, come and meet the woo/She know we keep a tool/Big knockin' on my body/Watch who you speaking to"—Pop Smoke

"Passionate from miles away/Passive with the things you say/Passin' up on my old ways/I can't blame you, no, no"—Drake

"We Paid"

Lil Baby featuring 42 Dugg

"First turnt nigga from the hood, they curious/Four in cars, 'bout five in jewelry/I get the commas with numbers, that's period/I got your BM wan' put on Amiris/First young nigga in the A with two Lams/Run up 14 mil', started 14 grams/Dope boy Dickies and diamonds and Timbs/You shouldn't play with that boy, he is not one of them/Bro, I kept taking L's, finally got me a M/Still making double, I don't count what I spend S550 2018/Gotta come 20 if you hoppin' in the Benz/Young turnt nigga from the D to the A/I'm rockin' with the Lions, yeah, I'm rocking with the Braves/Yeah, yeah, yeah, yeah, yeah, we paid/Yeah, yeah, yeah, yeah, yeah, we paid"—Lil Baby and 42 Dugg

"I took the top off/I'm dripping like hot sauce/I got drank and it's clean raw/Baby give me that mean mouth/Hit that pussy like golf ball/I can do this without y'all/Call the Locs, I go loco/I go back to the traphouse/Break the bricks and the bales down/Cashing in and I cash out/Turn that shit to a stash house/I ain't taking no handouts /Money calling, I'm en route /Fuck them niggas, they been down/Blow a bag when I'm in town"—Gunna

"Ride with the mob, Alhamdulillah/Check in with me and do your job/Ferg is the name, Ben Baller did the chain/Tourneau for the watch, presi Plain Jane"—A$AP Ferg

"I'm from Grape Street, where we G-slide/Sweet Shay Shay, would you be mine?/You know I like 'em dark skin like Shay Shay/Got that pretty smooth skin like Fay Fay/I think Shanini got a body like Tata/She fuck with Greedy 'cause he fuck her like a pornstar/Freaky-deeky, heard her pussy got that voodoo/I know she gay, but I done fell in love with Poo Poo/Sex appeal like butt butt, I'm like ooh-woo/Go to court for a nigga like why, boo?"—03 Greedo

"No, you can't say if I'm mad or not/Smokin' hella weed, I'm on that alcohol/Shawty lick me clean the way she suck me off/I keep two hoes in my bed, I got 'em turnin' out/What would you do if you heard I got it goin' on?/I had to burn, I left skrrt marks, I had to dip/ Gotta watch for 12 'round my town, you might get killed/I'm out my mind, yeah, I'm high above the rim/You cop it live, boy, I got it all on film"—Don Toliver

"Boca Raton"

Bas featuring J. Cole

"I'm out in Boca Raton/I'm sippin' Roca Patron/I got this chick on the phone/Talkin' 'bout life and how I just ain't right/For her—I been inclined to agree/'Cause all I been doin' is me now/I can't be your one, baby girl, nah/But I play the two or the three now"—Bas

"Got up with carpet burns, I just can't help it/Pussy good, it had me stalkin' her/Lock me up, officer/Can't get her off me, it's hard for me to get off of her/Got me thinkin' 'bout cuffin' her/Fallin' in love with her"—DaBaby

"Bitchuary (Betchua)"

Shordie Shordie

"'Cause bitch, you a bitch, you a/Bitch, you a bitch, you a bitch, you a bitch, you a/Bitch, you a dog and your homegirl too, aye/She hit me back like, 'Your dawg is, too,' aye/We can meet up, we can meet in groups, ayy/With you and I, it can be us two like/I'm in the club drinkin' Henny and a Black & Mild/Got my gun and I can wave it, I'ma start actin' wild/But I won't do that 'cause the gangster shit is out of style/And that's why I left the club early"—Shordie Shordie

"Best You Ever Had"

Megan Thee Stallion

"You ain't never been with a chick this bad/I ain't worried 'bout them other girls that you had/If I catch 'em lookin' at my baby, I'ma laugh/He gon' keep it real, I ain't worried 'bout that/You ain't never been with a chick this bad/I ain't worried 'bout them other girls that you had/If I catch 'em lookin' at my baby, I'ma laugh/He gon' keep it real, I ain't worried 'bout that"—Megan Thee Stallion

"Bad Bad Bad"

Young Thug featuring Lil Baby

"Rose gold seats on a fuckin' helicopter/Double C, no Chanel, 'cause she bad, bad, bad/Ridin' Kawasaki, and I could cop you a new 'Rari/Let you ride it, know your route and you're bad, bad, bad/No playin', no Atari, I won't play with you for nothin'/I can eat you like Hibachi 'cause you bad, bad, bad/I just took the doors off the 'Ghini, now I'm ridin'/And I'm slidin' in her sideways, now she call me her zaddy"—Young Thug

"Gat Damn"

Freddie Gibbs and Madlib

"I reminisce that feeling when I think about it/A million in the bank, I used to dream about it/No heat up in the whip, I used to sleep up out it/Up in the morning whippin' cocaina 'bout it, yeah, yeah/I got bags, ho, is you fuckin' with me? Yeah, yeah/Time to blast, ho, is you fuckin' with me? Yeah, yeah/Let that yayo dry on the table, droppin' fat slabs/Porsche Spyder look like a spaceship, they like, 'Goddamn'"—Freddie Gibbs

"I got a pack, hit 'em and do it again/Fuck it, I'm fuckin' her friend/I got bands, one day I'm flying to France/Juggin' 'til a nigga land/You got a man, know what I do to ya mans?/No I ain't shootin' the hands, took an L, I ain't took one again/Crashed the 'Rari so I hopped in the Benz/So, ooooh, it's crazy how they watch a young nigga gon' move/It's crazy, worry about yourself nigga, make a move/You steady watchin' all the winnin' niggas, you gon' lose/I don't gotta prove, you steady watchin' all the winnin' niggas/You gon' lose, I will never lose"—Lil Tecca

"Back to the Streets"

Saweetie featuring Jhene Aiko

"Pull up in my hood best dressed/Next thing, upgrade, who's next?/Rich boy, got him on deck/Good boy, tell that nigga, 'Fetch'/I put my new man on a leash/Traded in my old nigga, he was just a lease/I ride around town 'til I leave/I gave the boy a round, spit him back to the street/Like la-da-dee-da-dee-da, yeah/I spit him back to the streets/Like la-da-dee-da-dee-da/Back to the streets"—Saweetie

"Woo, everything we do, we goin' dummy/Whatever I do, I hope I got that Tommy/Just in case a nigga try to play, play, play/Yeah, every watch I own on tsunami/Chain on frost, ask Sonny/Tryna pose a threat, go at your mommy/It's OK, 'Kay"—Future

"My nigga gon' ride for me/Put on they swimming trunks, slide for me/Bitch, we ain't worried 'bout beef/My shooters fat and they ready to eat/Lean back in the seat, she spaghetti the D/These niggas ain't shooters, they tellin' on me/Aim at your bell, taco filling the scene/I'm pulling my pants up, I'm ready to swing"—SahBabii

"Huh?/Ah, I thought a broke nigga said somethin'/Talkin' shit, but they still ain't sayin' nothin'/We gon' trap this bitch out 'til the feds come/Huh?/Ah, I thought a pussy ho said somethin'/How it goes, when I'm talkin, you listen/Cut her off 'cause she spoke on the business"—Moneybagg Yo

"Act up, you can get snatched up/Act up, you can get snatched up/Act up, you can get snatched up/Dirty-ass nails, baby girl, you need to back up"—City Girls

"Neighbors"

Pooh Shiesty featuring Big30

"The chopper stay so close to me that you would think we neighbors/That pussy not what he 'posed to be, 'cause his mama raised him/We had a clear shot on his head, but I think God saved him/You never walked up, hit your man, you probably never grazed him/Aye, I'm a real gangster, this some shit you can't rehearse/My pockets used to hurt, now I get racks to spit a verse/God blessed me with some accuracy on the day I was birthed/Every time we get the drops, I'm the one who go scope it first"—Pooh Shiesty

"Big Purr (Prrd)"

Coi Leray featuring Pooh Shiesty

"Yeah, he call me big purr/Come make that pussy purr/The SRT make her get wet, play in that cat while I switch gears/You keep on running from these back shots, pull them tracks out, bitch, come here/Yeah, baby, after we fuck, we ain't gon' talk 'bout it, leave right there/Tell your bitch she dead, can't come back here/Yeah, he gon' hit from the back, throw me up in the air/Yeah, baby, keep that fire, put it up in the air/We stacking these hundreds, they're comin' in layers/Ain't going out sad, I grew up with the players/I see my bitch then slam her down, get it in blood, no, I don't care/After this mission, park the Track, fuck her in the back, and fix her hair"—Coi Leray and Pooh Shiesty

"Popp came up, he the muthafuckin' man/How the fuck he go like straight to the top/He was just locked up in the muthafuckin' can/And the party go down if I step in/I'ma ball like I'm Scottie Pippen/They be like, 'Popp, you so muthafuckin' hot'/If you stand too close then you might catch a tan/Now I can see why it's more than a band/
Bro brought a drum and he sayin', 'Let's rock'/Uh, I don't fuck with no cop/No red light, man, I won't stop/Uh, ain't cuffin' no thot/Just want the top, man, I don't want the box/Uh, I don't fuck with no opps/Gang tryna kill so we spinnin' they blocks"—Popp Hunna

"Moonwalking in Calabasas"

DDG featuring Blueface

"Mmm, I feel like Michael Jackson/Moonwalkin' through the Calabasas/Louis bag gotta hold the ratchet/Just in case a nigga want some action/Mmm, got some millions but it's just a fraction/Spendin' money for my satisfaction/Benjamins, we don't fuck with Jacksons"—DDG

"I be out of pocket, I be actin' rude/Think I gotta chill, check my attitude/Why you go and start actin' brand new?/Baby girl, you know that's what them bands do/I be out of pocket, I be actin' rude/Think I gotta chill, check my attitude/Why you go and start actin' brand new?/Baby girl, you know that's what them bands do"—24kGoldn

"Took Her To The O"

King Von

"Just got some top from this stripper bitch, she from Kankakee/Just bought a Glock with a ruler clip, boy, don't play with me/This bitch a ho, met her at the store, you know how it go/She wanna smoke, so I bought some dope and took her to the O"—King Von

"Since a jit stood tall with a kickstand/Thinking of a plan to get quick bands/Falling in deep with the quicksand/Flag out my ass, no quick brand/I was packing on the pounds, got my weight up/Had beef on the streets, had to stay up/Betty Crocker showed me how to bake a cake, brah/Doing that put everything I love at stake, brah"—Morray

"He was playing games, got you dancing in the middle of the club/Got you dancing in the middle of the club/I know what you chasing, you can only get this feeling from a thug/You can only get this feeling from a thug/Tears falling, and it's liquor in your cup, all you really want is love/Baby, all you really want is love/Only talk to bosses, independent, can't be fucking with a scrub/Girl, I know you can't be fucking with a scrub"—Polo G

"Something New"

Wiz Khalifa featuring Ty Dolla $ign

"Baby, come give me something new/Baby, come give me something new/'Cause I can't stop lovin' you/Since I got a taste of your love/Baby, come give me something new"—Ty Dolla $ign

"Said play with my pussy, but don't play with my emotions/If you spend some money, then maybe I just might fuck ya/When I shake that ass, I'ma do that shit in slow motion/You got a whole lotta cash, and nigga, you know I want it"—Doja Cat