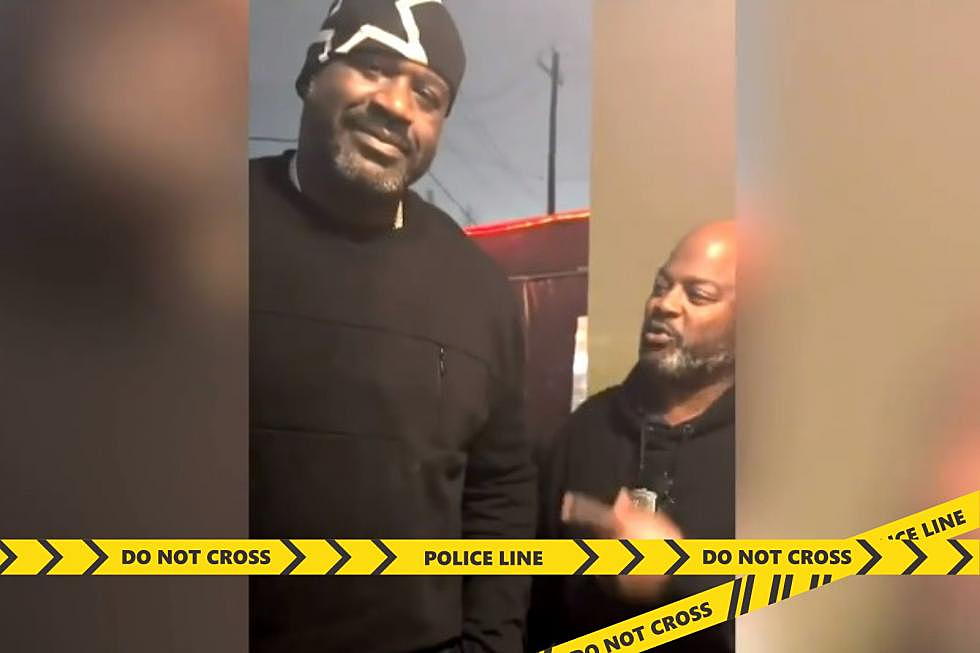 Shaq Pulled Over for Speeding in Houston, He & the Cop Made This Fun Video
NBA on TNT Twitter
So, we're not clear whether or not NBA legend Shaquille O'Neal got out of the speeding ticket, but we do know with absolute clarity that he the Houston, TX police officer who pulled him over made a fun video together.
Turns out Shaq is pouring money into The Lone Star State. Last year he moved to Dallas when he brought his fast-food franchise Big Chicken to The Big D, now Shaq Fu is apparently buying houses in Houston and opening up more Big Chickens too.
"I'm Officer Miles with Houston PD, I just pulled over Shaquille O'Neal for speeding down here in Texas. You're watching the NBA on TNT."
Shaq may be the most likable athlete walking the face of the earth today, and it's cool to see a Houston cop getting some love on national television after he pulled over the basketball legend.
If you haven't tried his chicken yet, according to Dallas News, "Big Chicken is a fast-casual restaurant featuring the favorite foods of basketball player Shaquille O'Neal and his famous friends. He is expected to make an entrance into Dallas and its suburbs starting in 2023. In fact as many as 56 Big Chicken restaurants are expected to open across Texas, in Dallas, Houston, San Antonio and Austin.
O'Neal retired from the NBA in 2011, and is widely regarded as one of the Top 5 all time players. During his 19 year career he won four NBA championships.
Let's take a look at O'Neal's recent Dallas area home purchase:
How About We Take a Quick Peek Inside Shaq's Beautiful New Dallas, TX Mansion?
He's one of the biggest guys to ever step foot on a basketball court, and has got one of the biggest hearts off of it. Television personality, entrepreneur, and NBA Hall of Famer, Shaquille O'Neal has moved to Dallas, TX, and we're ready to take a look at his new digs.
This 6 Story Air Castle Treehouse Airbnb is a Must-Stay for Texans
Man, they can do just about anything with these old shipping containers, even stack 'em up real high and get you up in the trees for a few unforgettable nights. This breath taking Airbnb is located just outside of Dallas, TX, and is reasonably priced.