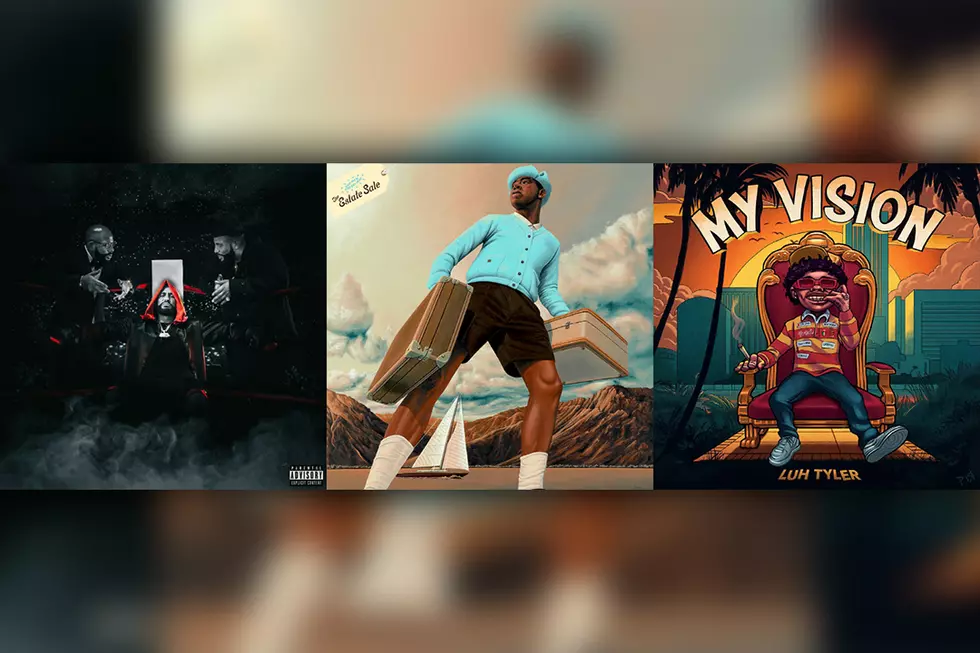 Tyler, The Creator, DJ Drama, Luh Tyler and More – New Hip-Hop Projects
GenerationNOW/Columbia Records/Sony Music Entertainment/Luh Tyler
With March coming to a close, hip-hop opens up the soundscape further with a fresh crop of music releases. This week, a globally renowned rapper-producer unleashes new sounds for an updated edition of a Grammy-winning album, a seemingly unstoppable DJ-producer drops a solo album packed with features from major names, a young up-and-comer comes through with his debut project and more.
Nearly two years after the release of his Grammy Award-winning album Call Me If You Get Lost, Tyler The Creator returns with a deluxe version of the original project titled Call Me If You Get Lost: The Estate Sale. According to former Odd Future leader, the collection will feature previously unreleased tracks that didn't make the final cut in 2021.
"CALL ME IF YOU GET LOST WAS THE FIRST ALBUM I MADE WITH ALOT OF SONGS THAT DIDNT MAKE THE FINAL CUT. SOME OF THOSE SONGS I REALLY LOVE, AND KNEW THEY WOULD NEVER SEE THE LIGHT OF DAY, SO IVE DECIDED TO PUT A FEW OF THEM OUT," Tyler tweeted in all caps on his Twitter account.
Additionally, Tyler also dropped two new videos this week, both of which he directed. The first visual was for "Dogtooth," which appears on the deluxe album. The clip contains some of the same elements in his previous visuals like the lo-fi aesthetic and voiceover narrative by Tyler. The song itself has a bounce music feel to it with Tyler rapping some kinky lyrics.
"She could ride my face, I don't want nothin' in return/Her body count and who she f**k ain't never my concern," he spits.
The second video was for his emotionally raw song "Sorry Not Sorry." In the clip, Tyler appears in different looks from his past album covers, including 2017's Flower Boy, as he apologizes for his past discretions and behavior. Meanwhile, a shirtless Tyler is slowly killing all the other Tylers before the video ends with a violent beatdown of the Call Me If You Get Lost-era Tyler.
Coincidentally, DJ Drama, who hosted Tyler The Creator's Call Me If You Get Lost album, is also dropping his own project this week.
After hosting several Gangsta Grillz collaborative projects for other artists last year, DJ Drama released his first solo album since his 2016 effort Quality Street Music 2. His album, I'm Really Like That, is a 14-track project packed with star-studded guest features. Rappers Lil Baby, Jeezy, Lil Wayne, Roddy Ricch, Gucci Mane, Lil Uzi Vert, Jack Harlow, Boosie BadAzz and more make cameo appearances on the LP.
To promote the album, DJ Drama released three trailers based on scenes from his favorite 1992 movie, Juice. The Ernest Dickerson-directed film marked the acting debut of Tupac Shakur (as Bishop), along with Omar Epps (as Q), Jermaine Hopkins (as Steel) and Khalil Kain (as Raheem).
In the first trailer, Drama recreates the DJ audition scene in the 1992 film with Queen Latifah reprising her role as Ruffhouse MC, and Drama playing the Q character. The Jim Jones-directed clip begins with Latifah arguing with a young DJ who was upset he didn't like his mixtape. After their argument is done, Latifah brings Drama in to hear his mixtape. After a brief listen, Latifah approves of his mix and hires Drama to DJ at her club.
The second trailer recreates the record store scene where Jim Jones portrays Bishop and the original Juice actors, Khalil and Jermaine, who play their Raheem and Steel characters, respectively. In the clip, Drama, as Q, distracts the store employee, played by model Chinese Kitty, while his crew shoplifts some vinyl.
In the final trailer, Drama recreates the heated apartment scene from the 1992 flick. This time, Drama portrays Tupac's character Bishop while the film's original co-stars Omar, Khalil and Jermaine reprise their roles.
For DJ Drama, recreating scenes from Juice was a full circle moment for him. The Philadelphia-born, Atlanta-bred producer credits the film for inspiring him to become a DJ.
"Always a pleasure being able to show LOVE to one of my FIRST & BIGGEST inspirations @omarepps [!!]," he wrote on his Instagram page in October 2022. "Let him tell it, he wasnt a REAL DJ, but for a GENERATION of us, DJ GQ had us beggin our family for turntables and savin lunch money to buy Vinyl."
In a very short amount of time, Luh Tyler has garnered some quick success after going viral last year with his songs "Fat Racks" and "Law & Order." What's even more amazing is that the 17-year-old Tallahassee, Fla. rapper has only been rapping for almost a year. Now Luh Tyler is dropping his new mixtape, My Vision, to give fans more insight into who he is as a rapper.
The 12-track collection features guest appearances from BabyTron and fellow Florida rapper Trapland Pat and others. Tyler's latest viral hit "Back Flippin," as well as, "Fat Racks Pt. 2," featuring Babytron, are also on the tape.
Currently, Luh Tyler's focus is on his burgeoning rap career. His quick rise to fame has him booked and busy for the next few months, but he seems to be taking it all in stride.
Check out other new projects this week from Larry June and The Alchemist, Lil Wayne, Autumn! and more below.
Call Me If You Get Lost: The Estate Sale (Deluxe)

Tyler, The Creator

Columbia Records/Sony Music Entertainment

Columbia Records/Sony Music Entertainment

I'm Really Like That

DJ Drama

Young Money Records/Republic Records

Young Money Records/Republic Records

The Great Escape

Larry June and The Alchemist

The Freeminded Records/ALC/Empire

The Freeminded Records/ALC/Empire

Great Is He (Deluxe)

Popcaan

Marino Infantry/Create Music Group

Marino Infantry/Create Music Group

Live at Daddy Macs

Dizzy Wright

The Collection Vol. 2

CEO Trayle

DO What You Love Records LLC/10K Projects

DO What You Love Records LLC/10K Projects

Trick City (Deluxe)

BigWalkDog