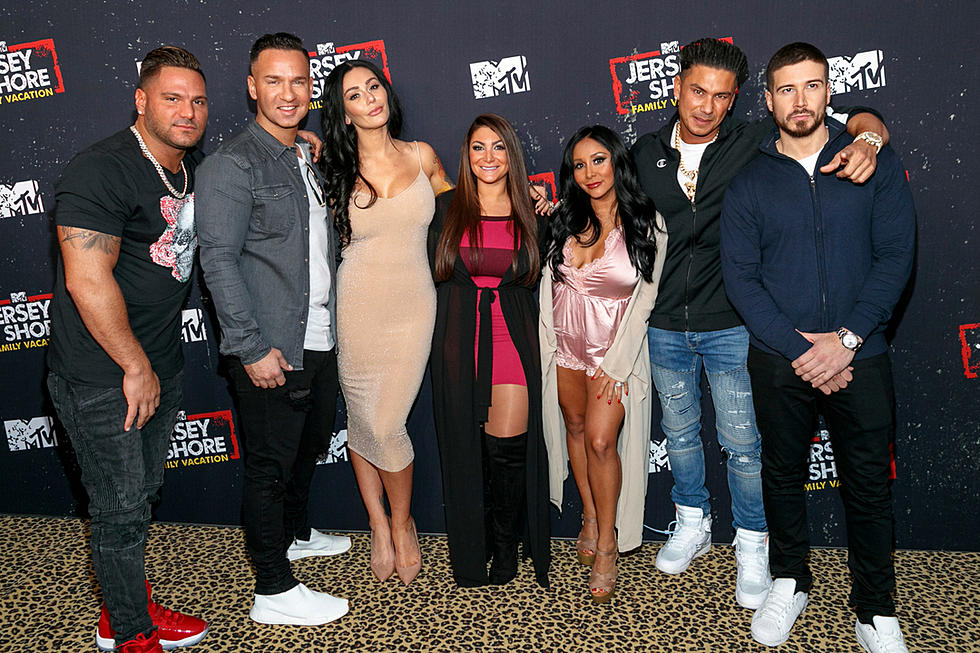 'Jersey Shore' Reportedly Forced to Halt Filming Over Ronnie Ortiz-Magro/Jen Harley Drama
Rich Polk, Getty Images
According to The Hollywood Gossip, the rebooted series has been forced to halt filming due to escalating drama between star Ronnie Ortiz-Magro and his on-again, off-again girlfriend Jen Harley. It was previously shooting its second season in Las Vegas, where both Ortiz-Magro and Harley also live.
The volatile couple has been publicly feuding for months, most notably in a heated fight live-streamed to Instagram less than a month after they welcomed a daughter together. It started after Ortiz-Magro slammed Harley on his Instagram story, writing that "you can't turn a natural born HOE, into a HOUSEWIFE" and that he should have left her "in the gutter."
Harley responded to the message on her own account, saying "Can't turn a coke head into a father!"
Things hit in a fever pitch in the Instagram video, which saw Harley and Ortiz-Magro exchanging harsh words before cutting off abruptly during a physical altercation. Ortiz-Magro later apologized for his actions on social media, and reports of him and Harley breaking up and getting back together have been ongoing.
Then last week, the 32-year-old nearly started a brawl at Vegas's Flamingo resort. He and the other man were separated by hotel security, but it was apparently too much for the Jersey Shore producers, and they've since reportedly sent the cast back to New Jersey for the time being. In fact, a source told Radar Online that the situation had gotten so dire that Ortiz-Magro's co-stars were considering an intervention.
"They cannot wait to get the hell out of the desert and be away from everything surrounding Ronnie and Jen," the insider explained. "They are all adults now, and they cannot watch Ronnie destroy his life anymore."
It's unclear whether filming has been fully suspended, or if it has merely been relocated to Jersey. The involvement of Ortiz-Magro, who has a history of aggressive behavior both on and off the show, is also unknown.
'Jersey Shore' Cast Through the Years