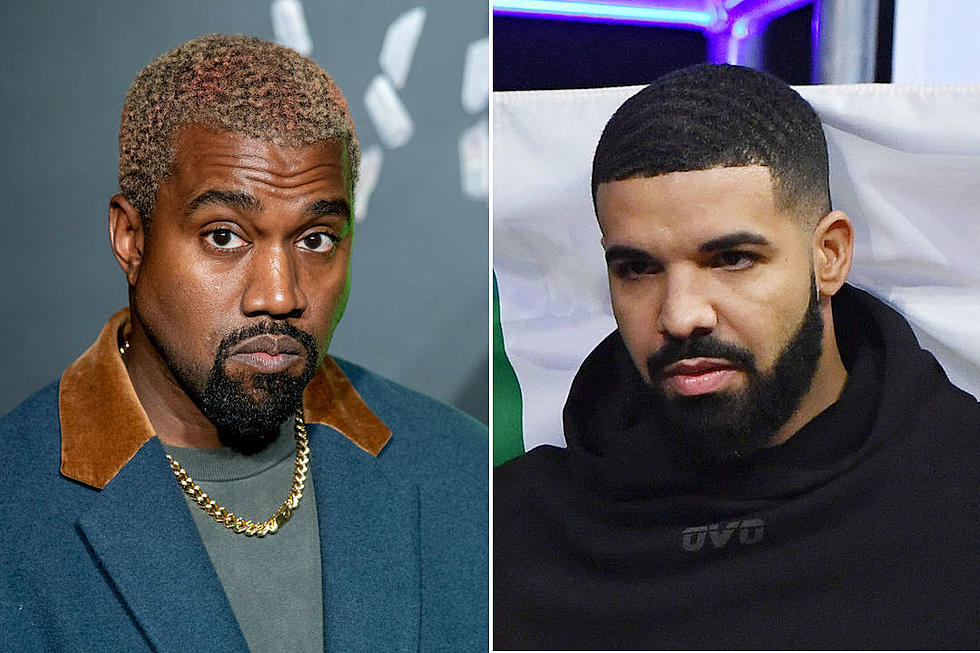 Kanye West Unleashes on Drake During 17-Post Twitter Rant
Roy Rochlin/Ethan Miller, Getty Images
Kanye West and Drake can't decide if they want a feud or a bromance, and on Thursday (December 13), Ye decided to make a u-turn back to the former.
During a 17- (no that is not a typo) post Twitter rant, the rapper posted a screenshot of a text that read: "Drake sent in a clearance request for 'Say What's Real'. Do you wanna clear?"
The track in question is likely Kanye's 808s and Heartbreaks song "Say You Will," which Drake sampled in "Say What's Real," off his 2009 mixtape So Far Gone. The project will be celebrating its 10th anniversary next year and is not currently available on streaming services, so it's possible the "In My Feelings" rapper is trying to get clearance for that.
Whatever the reason, Yeezus did not take kindly to the reques and aired his grievances in a number of stream of consciousness posts.
"Still need that apology for mentioning the 350s and trying to take food out your idols kids mouths," Kanye wrote, referring to Drake's bar dissing his Adidas sneaker line on French Montana's "No Stylist" ("Yeah, keepin' it G, I told her "don't wear no 350s 'round me").
"Been trying to meet with you for 6 months bro You sneak dissing on trav records and texting Kris talking bout how's the family," he wrote next, referring to the lowkey disses from his feature on Travis Scott's "Sicko Mode" ("Lost my respect, you not a threat").
"I told you I ain't tell Pusha about your son. It's all love bro bro but don't play with me. You stay too close to be playing all these industry games bro. Sending purple emojis. When I'm dealing with mental shit. I need my apologies now. Not through scooter either. Not through Travis," he continued.
"I would never intentionally try to hurt you bro. I never even heard none of the diss records. That ain't my MO never did a diss record. No tough talk either. This ain't about who could pay to have something done to somebody. This man to man bro. This been bothering me too long," he added, before mentioning Drake supposed involvement in buying tickets to a Pusha T show, just so his fans could heckle and throw things at the rapper who exposed his secret child. "Buying first two rows at Pusha show got me hot bro," Kanye admitted.
"Stop this already bro. You getting people hurt out here. And over what." At the end of the rant, Kanye divulged that "Drake finally called."
"Mission accomplished," he declared before confessing he didn't clear the track.
Check out Kanye's 17-post rant below.
Biggest Celebrity Beefs of 2018