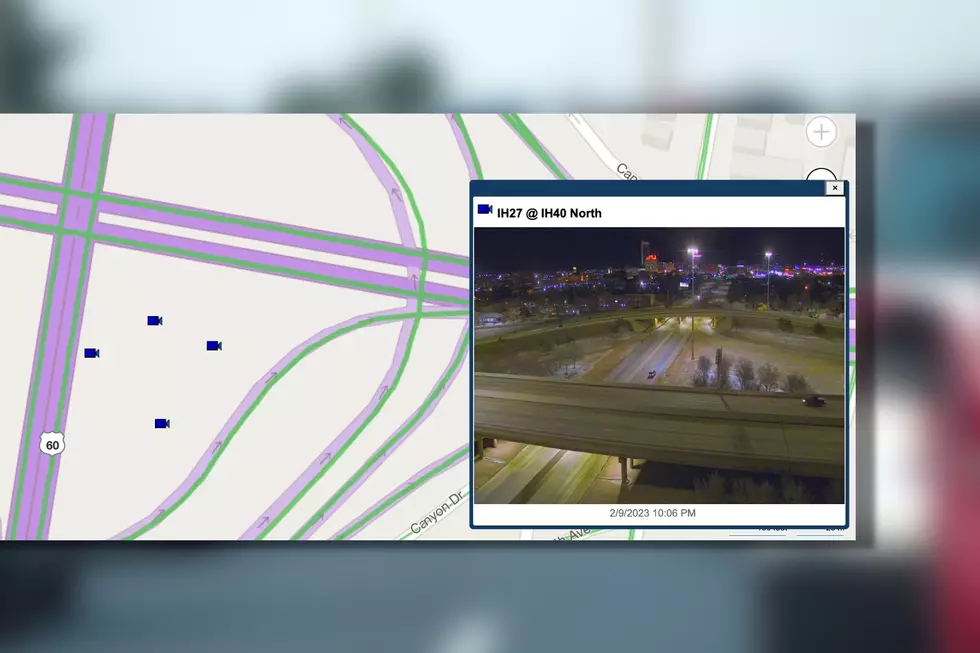 Like Reality Shows? It Doesn't Get Realer Than Amarillo Traffic Cams.
TSM
Look, I'm a total junkie for strange and obscure things. I love finding stuff that most people don't know about or realize, yet somehow give you so much info on something that it becomes part of a daily routine.
I think I've found just the thing, and it'll help you when you're planning on going somewhere in Amarillo.
That Eye In The Sky
One thing a lot of people, including myself, don't know about is that all the different traffic cameras that are placed around Amarillo and the Panhandle are viewable by anyone, not just TXDOT people. When I figured this out, I have to tell you I became enamored with them.
Now, they aren't live video cameras, so it's not like watching a real reality show unfortunately, but being able to pull up a camera and see how much traffic is going on in hotspots of Amarillo and the Panhandle is pretty helpful. If I'm in a hurry, and I have to hop on I-40, I can see if it's backed up at any of the main spots. If they are, I have the ability to find a different route that gets me there quicker.
Never Get Caught In Traffic Again
Here's the thing though, it gives you so much more than just photos of what is happening on the roadways at that time. When you click on a camera, it zooms in on that area and pops up a menu on the far right side. This menu gives you quite a bit of data.
One of the options allows you to select the things you want to see, such as lane closures, incidents, and traffic congestion. There's a little car icon that shows you what the different colors stand for, and they're all related to speed. So just because there are a lot of cars on the road, doesn't mean traffic isn't moving along swimmingly.
Go and check it out for yourself here. It's really a cool site, and I have a feeling you'll get lost in it just like I did.
These Might Be the Most Dangerous Intersections in Amarillo
Traffic stinks.
These intersections stink harder.
Don't hesitate to sound off if we missed any. We're happy to add more Amarillo collision hotspots to this list of shame.
Top 25 Things To Do In Amarillo
Here are the best things to do in Amarillo.