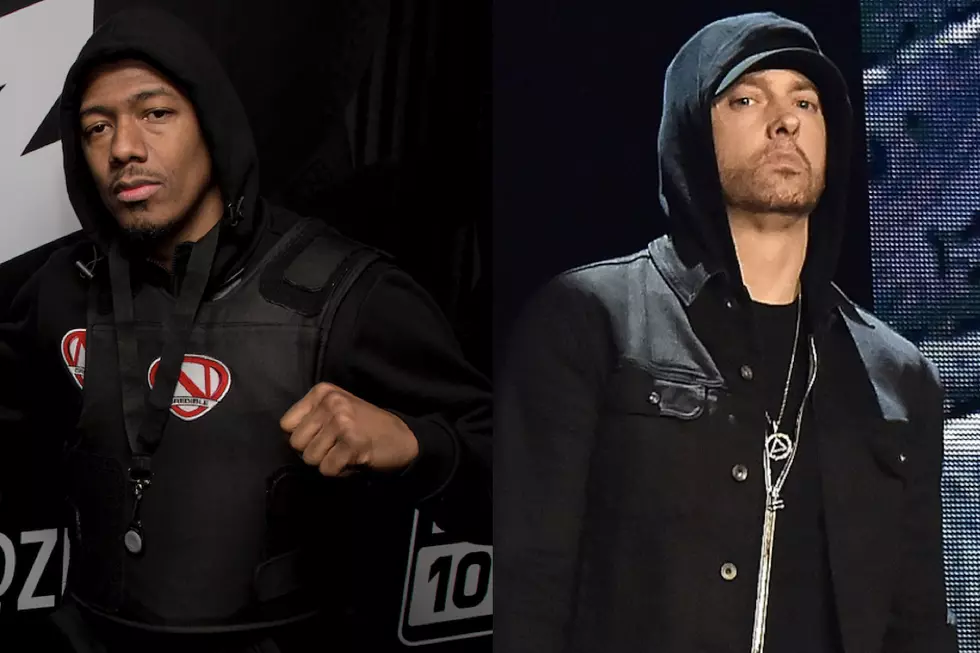 Nick Cannon Drops Another Eminem Diss Track "Pray for Him": Listen
Gabriel Olsen, Getty Images / Kevin Mazur, WireImage
A day after releasing his initial Eminem diss track "The Invitation," Nick delivered a second diss track on Tuesday (Dec. 10) called "Pray for Him" featuring the Black Squad, which are rappers Charlie Clipse, Hitman Holla, Conceited and Prince Eazy.
Over an instrumental of Jay-Z's "Renegade" from his 2001 album The Blueprint, the Black Squad goes in on the Detroit rhymer and spares him no mercy.
"Lord forgive us/I know that it's kinda wrong/For five brothers this talented to be on one song," raps Charlie Clipse. "But that White boy, he is nice/But he crossed the Black man, Jesus Christ/We gonna pray for him/And move Hailie out the way when we spray cans/We don't shoot kids and women/We shootin' eight man."
Meanwhile, Conceited taunts Em by challenging to battle rap Nick on his MTV show Wild'n Out. "You always hide in your trailer, we know you big mad (Mad)/Get your bitch, to run in the lap, 'cause this is gym class (Woo)," he raps. "'Cause all my niggas just stand up like Sinbad/Big Mac in the can that get rid of slim fast/Instead of stayin' in the booth to get your rhymin' out/It's season 15, here's your invite to Wild'n Out."
Finally, Nick jumps in and calls Em "the new white supremacist" and proclaims that he will never be a legend.
"And viewed in America as a motherfucking drug addict/You'll never be a legend (Marshall)/Em you should really start to stare at who's in the mirror/Look at all the fucking botox, bitch, I know you're embarrassed," he raps. "Fuck all the tricks and the gimmicks/You like the new white supremacist/Say the same fuckin' sentences/Nigga you ain't no lyricist/Lam, blam, flam, flam, take xans and train xans/I bet you never thought the kill shot will come from the cannon, blaow/You used to be a renegade."
So far, Eminem's only response to Nick was on Twitter. "U mad bro? Stop lying on my dick," he wrote in the tweet. "I never even have a chauffeur, you bougie f*ck."
It looks like Nick and the Black Squad are pulling no punches.
Listen to Nick Cannon's Eminem diss track "Pray for Him" below.
See 21 of Hip-Hop's Most Unfortunate Rap Beefs
[gallery galleryid="812:526524" galleryindex="0" template="xxl" showthumbs="yes" enablefullscreen="no" ids="526734,526730,526731,526732,526733,526735,526736,526737,526738,526739,526741,526742,526743,526745,526746,526747,526748,526749,526750,526751,526740,619513"]