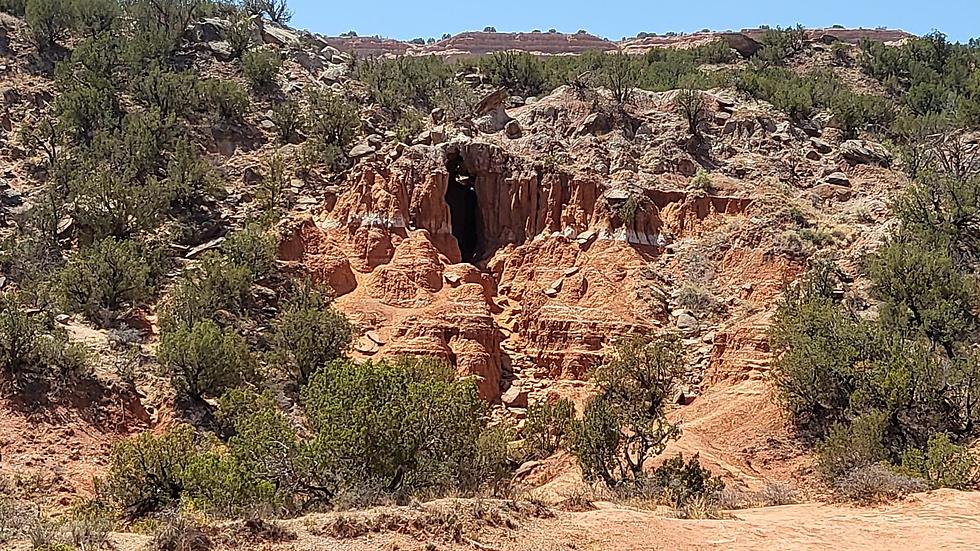 Photos: Searching For The "Hidden Caves" Inside Palo Duro Canyon
Charlie Hardin
Several months ago, I wondered if caves were somewhere in Palo Duro Canyon. After searching for clues and information, I came across some posts on the Internet claiming that there are several.
I'm not sure I found this is the mythical set of caves mentioned on the many hiking websites I visited.
The Search For The Caves Of Palo Duro Canyon
Online, there are several instances where caves in Palo Duro Canyon are discussed. These all point to an unmarked trail that leads you to one.
I decided to set out in search of this mythical cave. Supposedly it gets really dark inside, and once you're out, you're up on the edge of the canyon.
Start Simple. Check Out "The Big Cave."
Looking at the trails map, I noticed something in the "points of interest" list. A point on the map was labeled "The Big Cave."
This had to be it.
If this isn't exactly what I've been reading about, perhaps it would at least get me looking in the right direction.
After Taking A Wrong Turn, Could I Have Found What I'm Looking For?
Combining the information online with the trails map, I found myself following an unmarked trail in a circle that took about fifteen minutes to complete. I decided to backtrack.
That's when I saw it from the road; an opening that looked like it could be the cave I was after.
"The Big Cave" Is A Big Hole In The Wall
What I found did not live up to the descriptions I read online. "The Big Cave" is a big hole in the wall that doesn't go too far back. It was definitely worth checking out, but not what I was searching for.
It looks like the search continues. Meanwhile, check out these photos of "The Big Cave" in Palo Duro Canyon.
Is This The Legendary Cave Of Palo Duro Canyon?
I've heard rumors of caves in Palo Duro Canyon. Surely, this isn't all there is.
Wildlife of the Texas Panhandle
The Texas Panhandle is filled to the brim with wonderful species of wildlife. Here are some of the incredible animals that share their home with us.