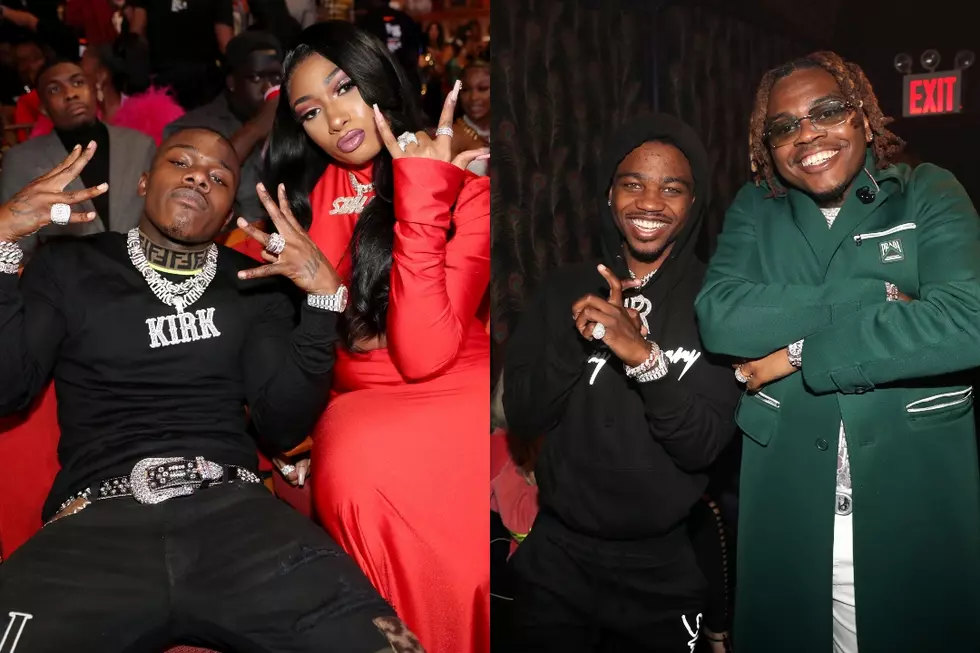 Every Time These Rappers Work Together It's All Hits, No Misses
Johnny Nunez (2), Getty Images / WireImage
Whenever the final product includes more than one person, you need to be able to be a team player and work well with others. Music has always been a collaborative effort, and hip-hop was birthed from a bunch of New York City youths teaming up to rap. In hip-hop's past and present, some of the best work has come from two rappers whipping up a song, and building off each other's contributions. Modern hip-hop is home to joint projects and collaborative tracks being released left and right. There are plenty of artists who work together very well but have stuck to releasing just a few songs as a team. XXL shines a light on the rappers who make magic together.
Interestingly enough, the 2019 XXL Freshman cover has two sets of artists that built relationships from that day forward that resulted in big songs. DaBaby and Megan Thee Stallion were both in that Freshman group, and soon after, Megan released her Fever standout "Cash Shit," with DaBaby. The North Carolina rapper then featured Meg, along with singer Ashanti, on "Nasty" from his Blame It On Baby album. Late last year, Meg collaborated with DaBaby yet again on her song "Cry Baby," from her debut album, Good News. With Meg and DaBaby getting a double platinum plaque for "Cash Shit" and "Cry Baby" being one of the most popular songs off Meg's debut LP, they are clearly a perfect rap match when it comes to making hits.
Another rap pairing that has benefitted from developing a working relationship after becoming XXL Freshmen is Gunna and Roddy Ricch, who were friends before they were even chose for the cover last year. Gunna was on Roddy's 2019 debut album, Please Excuse Me For Being Antisocial, appearing on the single "Start Wit Me." Then Gunna had Roddy on "Cooler Than A Bitch," from his own 2020 album, Wunna. They make quality music together because the chemistry is evident, both talent and their friendship are the ingredients to this special sauce. You never know when they'll link up and drop something again, but it's apparent that when they do, it'll be a smash.
From DaBaby and Megan The Stallion to Roddy Ricch and Gunna, along with plenty more, take a look at every time these rappers work together it's magic.
Megan Thee Stallion and DaBaby

Considering they both took off in the same timeframe—late 2018 into early 2019—it makes sense that Megan Thee Stallion and DaBaby built a working relationship together. That has culminated in a few songs, most recently "Cry Baby," but the biggest hit is "Cash Shit" from Meg's 2019 project Fever. This was the genesis of their work together. They never shy away from sexually charged lyrics, and their rapping is at supreme levels. Add in their charisma, and it's no wonder what they do works.

Roddy Ricch and Gunna are friends, and that informs the type of music they make together. While both tend to harmonize in their music—Roddy moreso—when they team up, they tend to use their greatest strength: their ability to stick directly to a beat. On "Start Wit Me," they do it with two distinctly different flows. Gunna's approach is more staccato but directly in tune; Roddy's is fast and fits together as one part, but is perfectly timed. Their other collab, "Cooler Than A Bitch," is another example of this.

Lil Durk and Lil Baby have a long history at this point, collaborating on numerous songs over the years. As evidenced on Durki'o's "3 Headed Goat" featuring Baby and Polo G, and "Finesse Out The Gang Way," Durk and Baby pairings tend to be a bar fest, with the both of them rhyming at the peak of their abilities. Baby is a big-time rap star who still doesn't get his just due for his lyrical skills, and Durk has been reinventing himself since he was a teen rapping, blowing up off blending rapping and singing. But the both of them can go, and their songs together prove that.

Playboi Carti and Young Nudy

Playboi Carti and Young Nudy went viral off "Kid Cudi/Pissy Pamper" in 2020, a leaked song that the two collaborated on that only exists on the edges of the internet. But before all that, they teamed up on "RIP Fredo (Notice Me)," featured on Carti's well-received 2018 debut album Die Lit. This song is a reunion of sorts, as both artists had an ongoing partnership with P'ierre Bourne, the producer of the track. Carti puts his patented baby voice to use, and just paces the song perfectly. Nudy rides the beat in a similar fashion, but his lyrics are more direct and to the point, leaving room for Carti's style to fit alongside his.

Jack Harlow and EST Gee are both Louisville, Ky. natives, and while they make drastically different music from each other, all their collaborations are good songs. EST Gee is a clever, vivid street rapper while Jack is more of a charismatic rap technician who doesn't take himself too seriously. On "Rotten," Jack chooses to floss, mostly about the women in his life. EST Gee's subject matter here is totally different; talks more about his struggles in the street and trying to leave it behind for music. The opposites attract on this one because they are both skilled rappers and complement each other's styles.

Sheff G and Sleepy Hallow

Sheff G and Sleepy Hallow are two close friends from the Winner's Circle Entertainment crew and Brooklyn natives, who have been making noise in the city since 2017, after Sheff dropped "No Suburban." They both make BK drill music, with Sheff being one of the genre's true pioneers, but put their own spin on it, thanks to how lyrically sharp they are. Sheff's style is more blunt force, with a booming voice and a dark sense of humor. Meanwhile, Sleepy raps like every single line matters, flying through bars and getting straight to the point. They both have a very specific bounce to them, bringing lighter melodies to a genre about darker things. Their 2020 single, "Tip Toe," displays all of these skills in a more polished way, but 2018's "Flows" lets their rapping really shine, with the slow, somber beat allowing them to get more personal.

Wale and J.Cole have been friends for a very long time, and were XXL Freshmen in subsequent years—Wale in 2009, Cole the next year. Since they hold each other in high regard, they have plenty of collabs over the years, such as 2009's "Beautiful Bliss," 2010's "You Got It," 2015's "The Pessimist," "You Got It" and more. Both have been regarded as high-level lyricists, and as their careers evolved and Cole turned into a superstar, they haven't shied away from that. These are two socially conscious MCs with flows for days, and Wale is the more braggadocios one while Cole lets the bars showcase how nice he is on the mic. 2018's "My Boy (Freestyle)" is their most recent collab, and here they just let their hair down and have fun.

Freddie Gibbs and Black Thought

Freddie Gibbs and Black Thought first rapped together on the former's Shadow of a Doubt album cut "Extradite" in 2015. When they team up, they always bring their A-game, aiming to have the best verse on the song. Being that they are both decorated rap veterans, the final product is always impressive. Freddie and Black Thought have made careers out of being unflinchingly honest, rhyming about the streets, Black strife and more.

Future and Meek Mill's styles just work together. Future is more melody-attuned and has plenty of classic hooks and verses under his belt. Meek Mill is the rapper's rapper, having tons of technical skill and emotion, along with a distinctive voice. When they are on songs together, like 2015's "Jump Out The Face," there's room for them to both play to their strengths without stepping on each other's toes. Their most recent meet up is 2020's "100 Shooters," which also features Doe Boy.

A$AP Rocky and ScHoolboy Q

Coming up together in 2011, ScHoolboy Q and A$AP Rocky were able to grow up and be present within each other's careers. Their first collab was that year's "Brand New Guy," one of the most popular songs off Rocky's debut mixtape, Live.Love.ASAP. That track was pure kinetic energy, with Q punching through with his scowling bars and mastery of flows, and the typically laid-back Rocky turning up and rising to the occasion. This kicked off plenty of work between the two, like 2012's "Hands On The Wheel," 2015's "Electric Body," both appearing on A$AP Ferg's "Work (Remix)" plus more. They work off each other because they both like to have fun, and being the smooth guy and the gangsta is always a good blend.

Travis Scott and Young Thug

Travis Scott was beginning to turn the corner and on his way to superstardom, and Young Thug was a young and captivating name in hip hop back in 2014. They linked up for "Mamacita," a Travis song which also featured Thug's Rich Gang partner in crime, Rich Homie Quan. That track felt like an arrival for all parties involved, with all three rappers snapping and proving that the future of hip-hop was bright. From there, Thug and Travis have both become much more famous and successful, and continued to consistently work with each other.

2016's "Pick Up The Phone" featuring Quavo was their first real hit together, and that opened the floodgates for their later songs, like 2019's "Out West," 2019's "The London" and "Hot (Remix)" and 2020's "Franchise," all of which have RIAA plaques to their name. Travis and Thug are both left-of-center rappers, and the way their bend their voices and have no one other artists similar to them, always works. Travis is basically an anthem machine at this point in his career, and Thug has honed his off-kilter style and vocal-inflections into making hits for days.