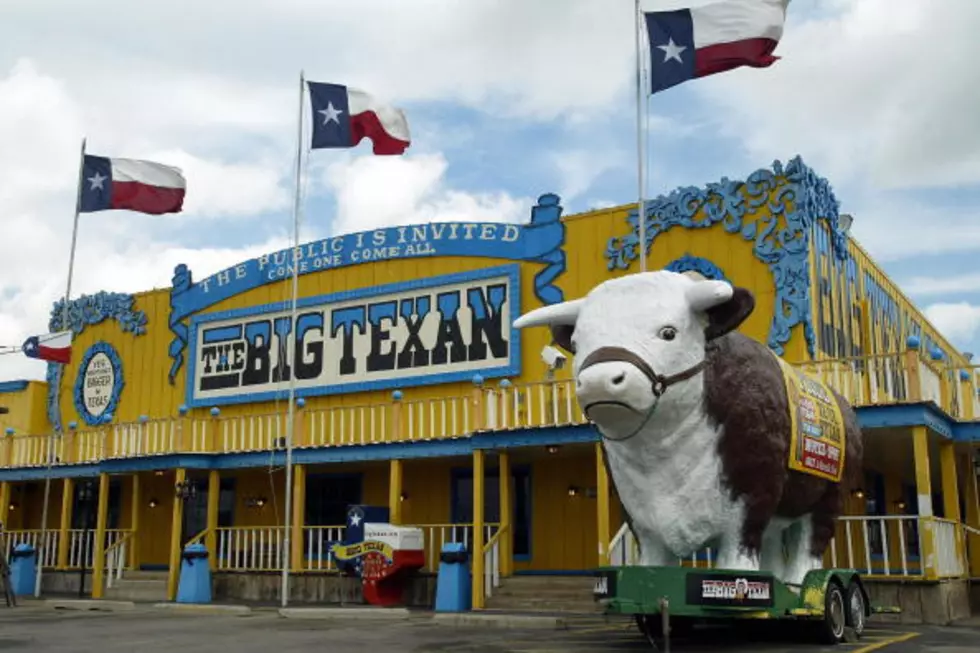 Some Things You Need To Know About 'The Texas King'
AFP/Getty Images
You might want to know more about this Amarillo legend before you sit down to eat.
The Big Texan is known for its 72-ounce challenge. The challenge includes a 72-ounce steak (4.5 pounds) a bread roll with butter, a baked potato, shrimp cocktail, and a salad. If you finish it within an hour, it's free. Many have taken the challenge. Many have failed. Only a few have succeeded.
The challenge has become quite popular worldwide. It has been featured in TV shows and movies. In the movie, Waking Up In Reno, Billy Bob Thornton's character takes the challenge. Man v. Food's Adam Richman took the challenge. Anthony Bourdain: No Reservations featured the big Texan. Bourdain refuse to take the challenge. His cameraman did in his place and failed.
The Challenge started in 1960 when founder Bob Lee decided to have a contest to see which cowboy can eat the most steak in one hour. The prize was $5. One cowboy ate four and half 1 pound steaks, a shrimp cocktail, dinner roll and a salad. He won the $5. Mr. Lee was so impressed he said,"Whoever eats that much again in my restaurant, he eats free".
The record for the shortest time to finish is held by a 125 pound competitive eating champion named Molly Schuyler. She set the record at 4 minutes and 18 seconds on April 19th, 2015.
Animals have also taken the challenge. An Unofficial record claims that a 400-pound Siberian tiger ate the whole meal in 90 seconds. A lioness in 2016 beat the record for finishing the challenge in 80 seconds.
That means two females currently hold the record for man and animal! Talking about girl power!