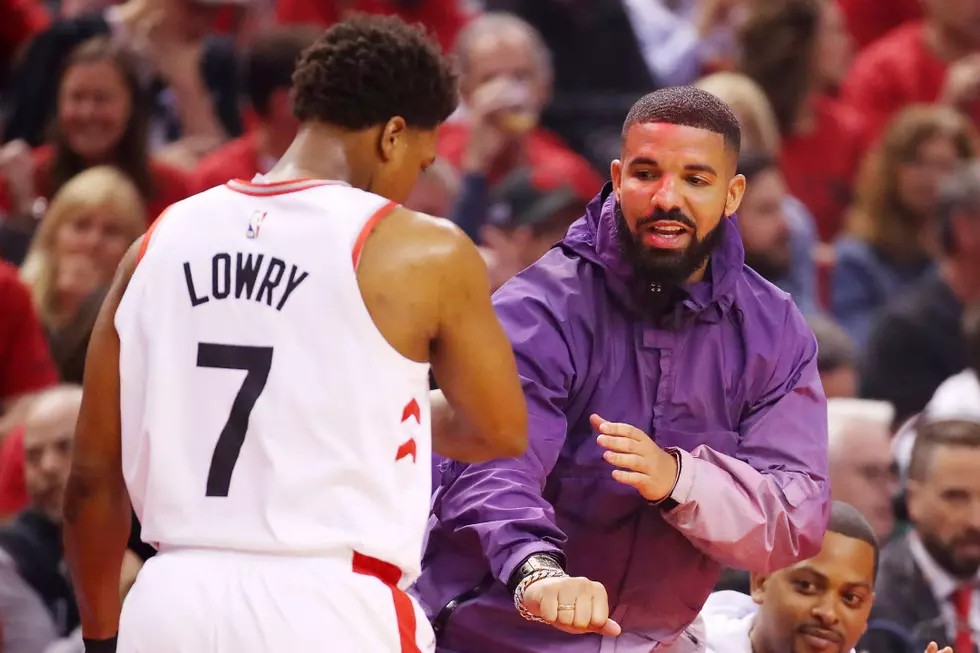 15 Hip-Hop Songs That Name-Drop Toronto Raptors
Gregory Shamus, Getty Images
The Toronto Raptors have already made team history by making it to the NBA Finals. Now, they are trying to shock the world. Not many people outside of Drake and residents of T-Dot thought it could happen, but the team from The North has been showing and proving throughout the 2019 NBA Playoffs.
Despite being somewhat of an underdog squad over the years, rappers have been plugging the team and some of its players since its founding in 1995. Of course, the 6ix God has shouted out his home team on multiple occasions. Others artists like Wale, Fabolous, Tory Lanez, The Game and more have also mentioned the team or players on occasion on wax.
"We have the best player, we have the best fans in the whole NBA, in the whole world," an ecstatic Aubrey said during an interview prior to the Raps securing a spot in the Finals. "Look around you, look at this, we created this. This didn't exist before we were here, look around at the square, this didn't exist before we were here, we did this. It doesn't matter what anybody says. They can say it's disrespectful, they can say, it's this, it's that. Everybody's within the rules, everybody's doing their thing. All we are is proud and passionate. We are like a college sports team—the Toronto Raptors are a college sports team, I promise you. I love Toronto, I love this team."
With the Raptors trying to stake their claim as 2019 NBA Champions against the Golden State Warriors, XXL compiles a list of rap songs that name-drop the team from The North.
"0 to 100 / The Catch Up," Drake

Shout-out: Toronto Raptors

"Fuck all that rap-to-pay-your-bill shit/Yeah, I'm on some Raptors-pay-my-bills shit"

"It's Lit," Kyle featuring IAmSu!

Shout-out: Kyle Lowry

"Super Duper Kyle is really good rapper/Shoot like the nigga name Kyle on the Raptors" —Kyle

"Winter Schemes," Wale featuring J. Cole

Shout-out: Kawhi Leonard

"Until I'm par with bitches, my parking garage official/Boy I play with foreigns and I feel just like Kawhi Leonard" —Wale

"Love You," Roy Woods

Shout-out: Toronto Raptors

"Miss days of her laughter/But I've turned another chapter/In the 6 with my Raptors"

"Only in America," Action Bronson

Shout-out: Serge Ibaka

"You got the urge to suck the cock of Serge Ibaka/Pictures of naked rappers hangin' in your locker"

"Throw It," SahBabii

Shout-out: Kyle Lowry

"I wanna beat it up all week/Ahwee, ahwee, ahwee, ahwee/Bitch, I ball like Kyle Lowry"

"Daytona 500," The Game

Shout-out: Toronto Raptors

"When that R.E.D. drop just prepare for the rapture/Lock me out of Canada, balling like the Raptors/Shit don't even matter, name floating in the rafters"

"Streets at Night," – PRhyme

Shout-out: Kawhi Leonard

"All I need is five minutes, every style get augmented/Well endowed in God's image, never smile, Kawhi Leonard" —Royce Da 5'9"

"Rapture," Fabolous and Jadakiss

Shout-out: Toronto Raptors

"Yeah, caught up in the rapture of love/Rock the 7's in Toronto, show the Raptors some love/Take a picture with my niggas trying to capture the love" —Fabolous

"Something to Say," Nick Grant

Shout-out: Serge Ibaka

"Man I'm on top of the game, just check the nosebleed/Nobody hotter, Serge Ibaka, I'll be back to the block"

"Fireworks," Riff Raff

Shout-out: Toronto Raptors

"Now I'm jumping out the gym I'm in the rafters/Fly to Toronto balling with the Raptors"

"Really Doe," Danny Brown Featuring Kendrick Lamar, Ab-Soul and Earl Sweatshirt

Shout-out: Kyle Lowry

"You've been the same motherfucker since 2001/Well it's the left-handed shooter, Kyle Lowry the pump" —Earl Sweatshirt

"Makaveli," Tory Lanez

Shout-out: Kyle Lowry

"Made a million dollars rap tourin', I ain't talkin' no Kyle Lowry/Young nigga like the 10 Commandments, always got ten thous on me"

"Beef," Lil Dicky

Shout-out: Serge Ibaka

"Gotcho lil mama in the sauna all up/In the male locker room/She really good with the D/That's my Serge Ibaka boo, ooh"

"30 for 30 Freestyle," Drake

Shout-out: Toronto Raptors

"I got a club in the Raptors arena/Championships, celebrations durin' regular seasons"