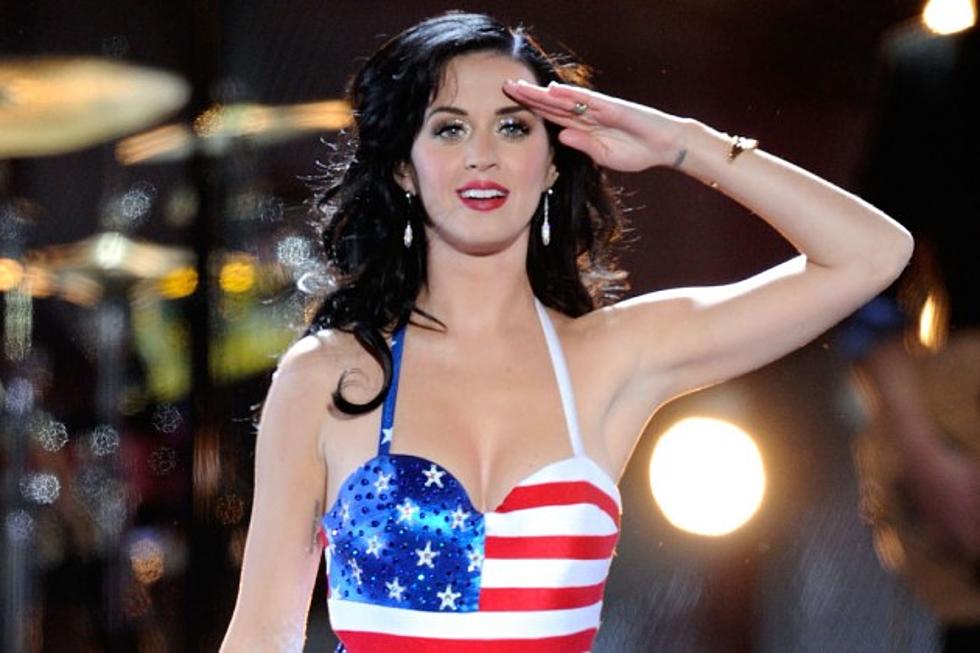 4th of July Playlist: 13 Songs to Soundtrack Your Cookout
Michael Caulfield, Getty Images
Happy (almost) 4th of July weekend, PopCrushers!
The festivities are just about to officially kick off, and we're feeling especially patriotic — err, poptriotic — at the moment. To celebrate the America's gool ol' day of independence, we've gathered together some of the most America-centric pop gems recorded by some of our favorite pop stars in the past few years...and a few classics for good measure, of course. From Katy Perry to Lana Del Rey to, yes, even Team America: World Police, there's no shortage of American pop goodness.
So, whether you're headed to the beach with friends for a cookout or cracking open a beer and eating some hot dogs at a BBQ, this playlist ought to get you in the spirit. America...f--k yeah!
Estelle may be British, but you don't need to be a native in order to appreciate the charms of stateside guys.

Miley Cyrus, "Party in the U.S.A."

Jessie J co-wrote this enduring earworm, and Miley made it a No. 2. hit on the Billboard Hot 100. It's still catchy as hell and pairs well with grilled hot dogs and potato salad.

Bonnie McKee, "American Girl"

The powerhouse singer-songwriter is best known for co-writing some of Katy Perry's biggest hits, but she's turned out some gems herself.

The lyrics "I fell in love in a 7/11 parking lot / Sat on the curb drinking slurpees we mixed with alcohol /We talked about all our dreams and how we would show 'em all" certainly paint a vivid picture of American life.

You didn't think we were going to leave this one out, did you? It's a little on-the-nose to play this track as you light your sparklers, but we recommend it nevertheless.

Lana Del Rey, "National Anthem"

Lana has a few songs that examine life in America — including one actually titled "America," but that track's a little down-tempo for a party. "National Anthem" covers the more lurid aspects of our capitalist culture, set to a hip-hop beat.

Demi Lovato, "Made in the USA"

Demi sings of a bond that's stronger than domestically-manufactured denim on this Demi single. "No matter what the people say, I know that we'll never break / 'Cause our love was made, made in the USA." 

Carrie Underwood, "All-American Girl"

Our American Idol — and proud of it! The powerhouse performer cycles through dozens of careers in her ode to the All-American Girl, underscoring the fact that we're free to be anything we want in this country...including a massively successful country star.

One Direction, "Kids In America"

Sure, this is another non-American act — but that isn't going to stop 1D from rocking out like they're born in the USA! Back before shooting to superstardom, the boys took on the Kim Wilde classic on X Factor UK. And don't worry — those kids sure came to America!

Mariah Carey, "Fourth of July"

What would a festive celebrations of patriotic moments be without the Elusive Chanteuse and Queen of Festivity herself, dahhhling? Mimi's fabulously romantic ode to the 4th is a real firecracker, if you will.

5 Seconds of Summer, "Mrs. All American"

So, it's official: International boy bands just love them some all-American girls. 5SOS might be Aussie-bred, but their hearts are clearly living in the USA.

Team America: World Police, "America, F--k Yeah!"

This hilarious patriotic jam might be the theme song to a movie, but it's kind of become a legitimate American anthem for the new generation. Seriously! F--k yeah, America!

In Beyonce's America, freedom is something you're born with, and if it's stolen away, you take it back. It's aggressive, uncompromising and steadfast, and its never-give-up mantra is about as American as it gets.

Spacecraft Juno's arrival to Jupiter is set for Independence Day 2016 — so, naturally, NASA asked Weezer to ring in the occasion by writing a song. "I love the USA" was born shortly thereafter, which includes the simple sentiment "I love the USA / F--- yeah, this place is great."