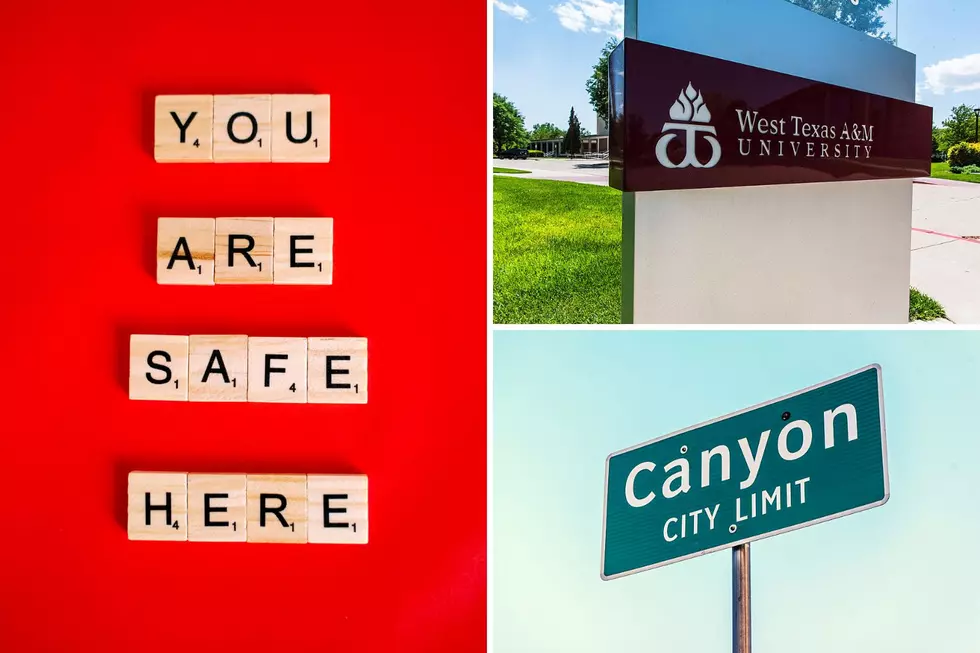 Canyon is One of the Safest Cities in Texas
Michael J. Rivera/TSM Amarillo
Canyon is a great city to live in, it has a very small-town feel, with some big city flair.   It's a great place to live, raise a family and get a university degree.
Canyon, Texas is home to West Texas A&M University, (OK Buffs, Let me see your WT).   This makes Canyon the perfect college town.  It has all the great amenities any college kid needs, and everything it doesn't have they are just 10 minutes away from the big city of Amarillo.
Canyon was recently named as one of the safest cities in the nation by SafeWise. SafeWise conducted a study on the Safest College Towns in the United States.  Canyon ranked at #21 in the entire United States.  Last year they ranked #24, so they are safer than they were last year.
Not only are they #21 in the US they are the #1 Safest College Town in Texas.
How did they determine just how safe Canyon is?
According to a press release from WTAMU, SafeWise analyzed FBI crime data for violent crimes and property crimes, with supplemental data including median income and poverty, high school graduation rates, redlining practices, city budget allocations, unemployment rates, and other socioeconomic factors.  They found the crime rate in Canyon per 1,000; Violent: 0.86, Property: 8.12.
"We take a lot of pride in making Canyon one of the safest cities in Texas," said Canyon Police Chief Steve Brush. "Our partnership with WT's University Police Department is important to uphold Canyon as a safe and secure place for both students and residents.
The safest college town in the US is Bristol, RI, and the most dangerous college town in the US is Monroe, LA.   Canyon was the only city in Texas that was in the top 50.
The Canyon community really supports our efforts both on campus and in town." Safety rankings such as this are key information as students and parents are considering higher education options, said Chief Shawn Burns of the WT University Police Department. "One of our top priorities is collaborating with our partners in the City of Canyon and the Canyon Police Department to keep the campus community safe," Burns said. "It takes all of us to have an impact on crime." Previously, WT was ranked No. 1 in Texas and No. 10 nationally by Your Local Security, a separate national security association.
Looking at the Texas 50 Safest Cities, not just college towns, Canyon came in at #28.  Amarillo is nowhere near the top 50.
If you live in Canyon, you are in a very safe city and can sleep well at night.
Is This The Legendary Cave Of Palo Duro Canyon?
I've heard rumors of caves in Palo Duro Canyon. Surely, this isn't all there is.
The Abandoned School House Outside of Canyon, Texas
This was once the Jowell School. Built in 1901, the building was the cornerstone of the teeny tiny farming community of Jowell.
The building had been rebuilt and restored in the late '80s or 90s before vandals destroyed it in an act of arson. What remains of the Jowell School sits in a desolate part of rolling farmland between the small towns of Canyon and Happy, Texas.
The Missing 18 People From the Texas Panhandle
These are the 18 people from the Amarillo area who have gone missing and have not yet been found. The cases are listed from most recent to oldest. Please take a look and see if you recognize any faces. Any information is helpful for investigators and the families missing them.
If you know anything about the following missing people, please call Amarillo Police Department at
(806) 378-3038
You may make an anonymous tip
.