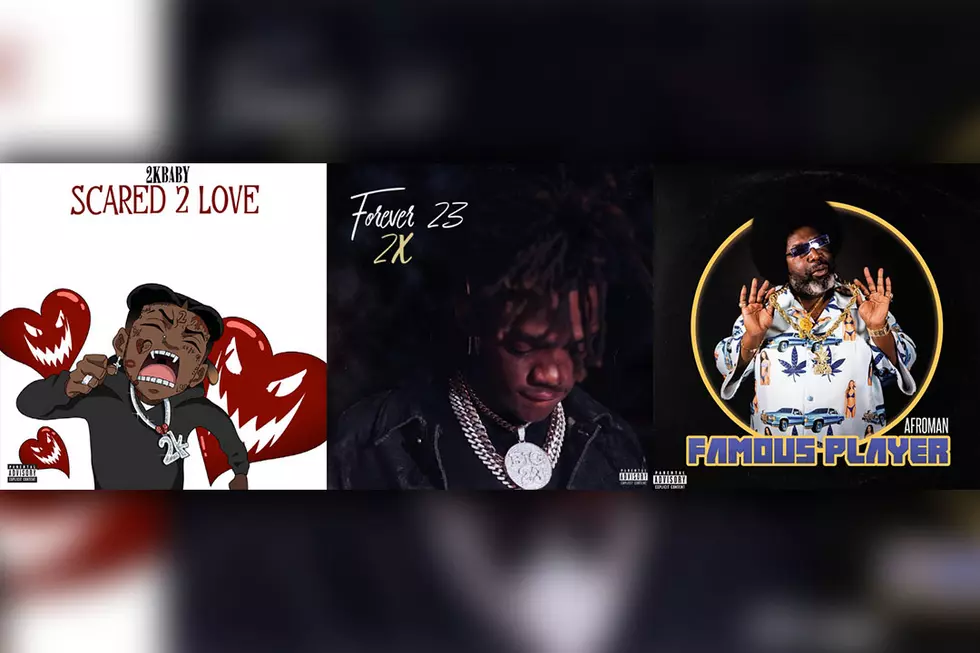 JayDaYoungan, 2KBaby, Afroman and More – New Hip-Hop Projects
Masked Records/Warner Records/JayDaYoungan/Hungry Hustler Entertainment
Just like that, the first new music Friday of February is here and this week, we have fresh new drops from various corners of the rap game. A late Lousiana-bred rhymer puts out his first posthumous project since his tragic passing last year, a rap-crooner repping Louisville, Ky. drops his second project in just over a month, a veteran spitter unleashes a new EP and more.
Just about six months after he was tragically shot and killed in his hometown, JayDaYoungan and his family release the Bogalusa, La. rhymer's first posthumous project, Forever 23 2X. The 16-track LP is comprised of beats produced by Heartbeatz, MrBlackOnDaTrack and Lako, among others. The sole guest feature on Forever 23 2X is from JayDaYoungan's best friend and frequent collaborator, FG Famous. In unveiling the posthumous album's track listing on Thursday (Feb. 2), FG Famous offered up a celebratory toast via Instagram to his fallen comrade.
"I know it's gonna be a big party in heaven tomorrow," wrote FG Famous in reference to JayDaYoungan's album. "I can only imagine that smile on your face, lil bro. To all our fans, let's run da [numbers]. Forever 23 2X will be released 2/2/23. What a bond to be broken."
A few months prior to JayDaYoungan's passing on July, 27, 2022, the "23 Island" rapper saw the release of his All Is Well EP.
2KBaby is back with Scared 2 Love, an emotion-filled project just in time for Valentine's day. Arriving six weeks after his most recent offering, the Lil Wayne-inspired mixtape, Sorry 4 the Hate, the Louisville, Ky. rap-crooner's new 16-track offering finds 2KBaby lyrically exploring real-life experiences of love and loss including the passing of his father during the COVID-19 pandemic.
Led by three previously released singles, "Stand Love," "Mood Swings" and "Don't Love Me Now" featuring Charlieonnafriday, 2KBaby boasts the production on Scared 2 Love as a chance to spread his wings over more experimental beats. In announcing the release of the aforementioned song, "Don't Love Me Now," 2KBaby explained his mental state during the process of writing the poignant track.
"Just dropped 'Don't Love Me Now' with [Charlieonnafriday]," he wrote via Instagram accompanied by a snippet of the song. "I was in a dark place when I wrote and made this song. I felt like the world was against me at the time. Go listen. Trust me you'll feel every word."
Afroman is living it up right now as is evidenced by the very first joint, "Live It Up," on his new EP, Famous Player. Just as jovial as ever, the "Because I Got High" veteran's five-track project offers the same laidback, party vibes the California-bred rhymer has become known for through the years. Even in addressing the trials and tribulations of everyday life on tracks like "Some Days" and "So What," Afroman carries on with a positive outlook through his comedic bars and funky beats.
Check out other new projects this week from Killah Priest, Ace Hood and more below.
Forever 23 2X

JayDaYoungan

Masked Records/Warner Records

Masked Records/Warner Records

Hungry Hustler Entertainment

Hungry Hustler Entertainment

Ragnarok Remixes

Killah Priest

Definition of Big Dude

Big Boogie

The Luca Brasi Story (A Decade of Brasi)

Kevin Gates

NOW That's What I Call Music! Hip Hop Party

Various Artists