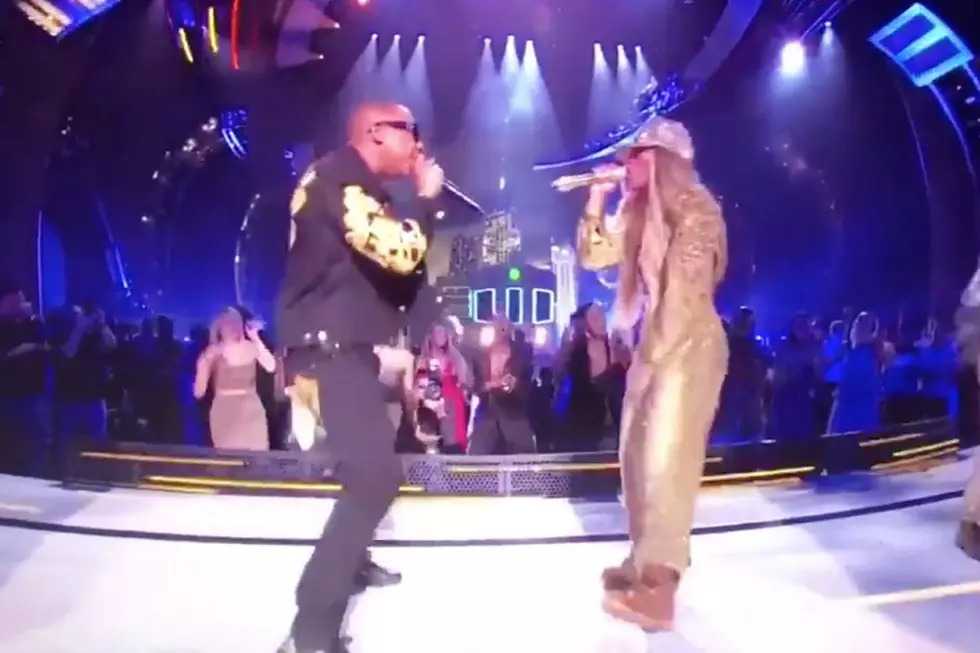 Ja Rule Performs With Jennifer Lopez at 2018 MTV Video Music Awards
BroTalkLive via Twitter
Jennifer Lopez was awarded the Video Vanguard Award at the 2018 MTV Video Music Awards on Monday night (Aug. 20) and she shut the stage down with an incredible performance of her greatest hits. Fortunately for hip-hop fans that included "Ain't It Funny" and "I'm Real," both featuring Ja Rule, who came out on stage to join her.
Fans went wild as Ja came out in a gold-tinged jacket to match J. Lo's entirely gold get-up, and sang word for word the lyrics to their classic jams. Needless to say, the nostalgia was real. The fun didn't stop there—as Jennifer Lopez went on to bring a life-size faux six train on stage to pay homage to her Bronx roots. She also briefly danced along to her fellow Bronx native Cardi B's smash breakout hit "Bodak Yellow."
Ja Rule has stayed relatively quiet on the music scene as of late, however, he did recently get shown some love by another former collaborator. Ashanti said during an interview back in June that her and Ja are working on their long-rumored joint album.
"Listen, me and Rule, it's so funny because we've been talking about that for so long, but I think now he's like, 'OK, now it's time to do it,'" she said.
Check out video of Ja Rule and Jennifer Lopez's performance below.
See Photos of Cardi B, Quavo and More on the 2018 MTV Video Music Awards Red Carpet