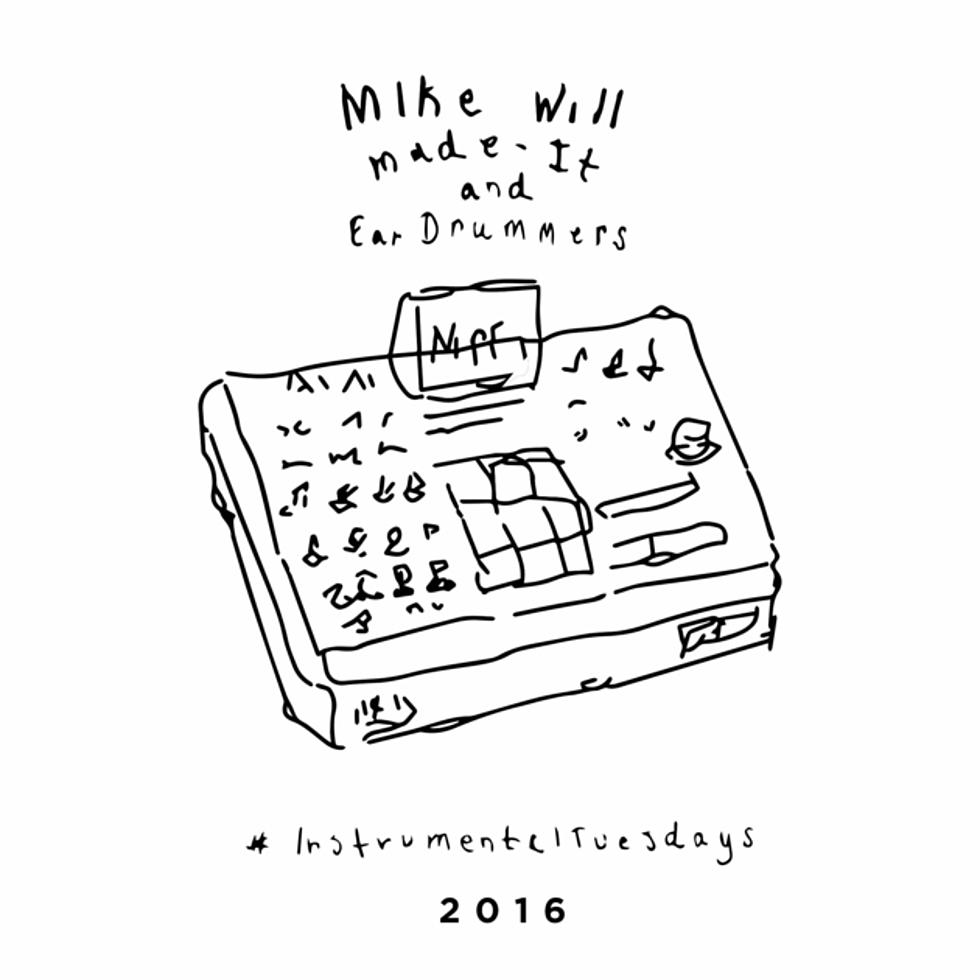 Mike Will Made-It Shares Every Instrumental He Produced in 2016
Ear Drummer Records
Mike Will Made-It helped provide the soundtrack for 2016. The acclaimed producer was behind mega-hits like Beyoncé's "Formation" and Rae Sremmurd's "Black Beatles." Now, he's giving fans a chance to listen to all the beats he crafted this year with Instrumental Tuesdays 2016.
The project features 35 instrumentals that Mike Will created for Beyoncé, Rae Sremmurd, Eearz, 2 Chainz, Young Thug, Juicy J, Young Dolph, Tinashe, Future and Gucci Mane. Production for Guwop makes up quite a bit of the playlist, continuing a relationship that's been tight ever since Gucci christened Mike Will with his stage name.
"In his ['Star Status'] verse he says, 'Mike Will made it, Gucci Mane slayed it,'" Mike Will said when recalling his moniker's origins. "I'm like damn that man just shouted me out, that's hard. When it came out on Guapahoics mixtape, after that everyone in the streets was just running up to me like 'Yo, Mike Will Made-It,' Cause before then it was just Mike Will. After that it was like Mike Will Made-It."
Check out what Mike Will made for the East Atlanta Santa and many others on Instrumental Tuesdays 2016. Tracklist and stream are below.
Mike Will Made-It's Instrumental Tuesdays 2016 Tracklist
1. "Nonchalant" (Gucci Mane)
2. "Nothing's Promised"
3. "Now That I Know" (Rae Sremmurd)
4. "Over Here" (Rae Sremmurd)
5. "Pop Music" (Gucci Mane)
6. "Pussy Print" Gucci Mane)
7. "Real Chill" (Rae Sremmurd
8. "Ride Shotgun" (Eearz)
9. "Roof on Fire" (Rae Sremmurd)
10. "Shake It Fast" (Rae Sremmurd)
11. "Showin Luv" (Eearz)
12. "So Fortunate" (Eearz)
13. "Special" (Young Thug)
14. "Start A Party" (Rae Sremmurd)
15. "Swang" (Rae Sremmurd)
16. "Take It Or Leave It" (Rae Sremmurd)
17. "Wit Dem" (Young Thug)
18. "Yoga" (Rae Sremmurd)
19. "Al Sharpton" (Future)
20. "Black Beatles" (Rae Sremmurd)
21. "By Chance" (Rae Sremmurd)
22. "ENERGY" (Tinashe)
23. "Every Room" (Eearz)
24. "FACTS" (Young Dolph)
25. "Formation" (Beyoncé)
26. "F Cancer" (Young Thug)
27. "Gimme" (Juicy J)
28. "Gon Be Something" (Eearz)
29. "Gucci Please" (Gucci Mane)
30. "Guwap Home" (Gucci Mane)
31. "Just Like Us" (Rae Sremmurd)
32. "Look Alive" (Rae Sremmurd)
33. "MF'n Right" (2 Chainz)
34. "No Sleep" (Eearz)
35. "No Sleep" (Gucci Mane)
Here Are the 50 Best Hip-Hop Projects of 2016