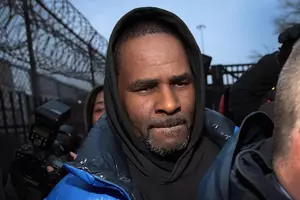 No, R. Kelly Is Not Free And He Is Still In Prison
Getty Images
Disgraced R&B star R. Kelly began trending on social media this morning but the reason he was trending was due to some misinformation.
According to The Rap-Up, early on Thursday (June 3) morning, rumors began to circulate on the socials that Kelly had been released from prison despite the fact that the singer is awaiting 2 upcoming trials in Chicago and New York.
A photo of Kelly and what appears to be his attorney began making the rounds showing the singer walking away from jail. One problem: That photo was from 2 years ago.
Kelly has been behind bars in Chicago since July 2019 where he will go to trial beginning Sept. 13 for allegedly filming himself having sex with underage girls and paying off witnesses and victims in his 2008 child pornography trial.
Back in April, a federal judge ordered that Kelly be moved out of Chicago and moved to New York City to face trial on sex trafficking charges before his Chicago trial. His trial date is set for August 9th in NYC.
Kelly has continue to maintain his innocence but could face decades in prison if he's convicted.
KEEP READING: Scroll to see what the big headlines were the year you were born