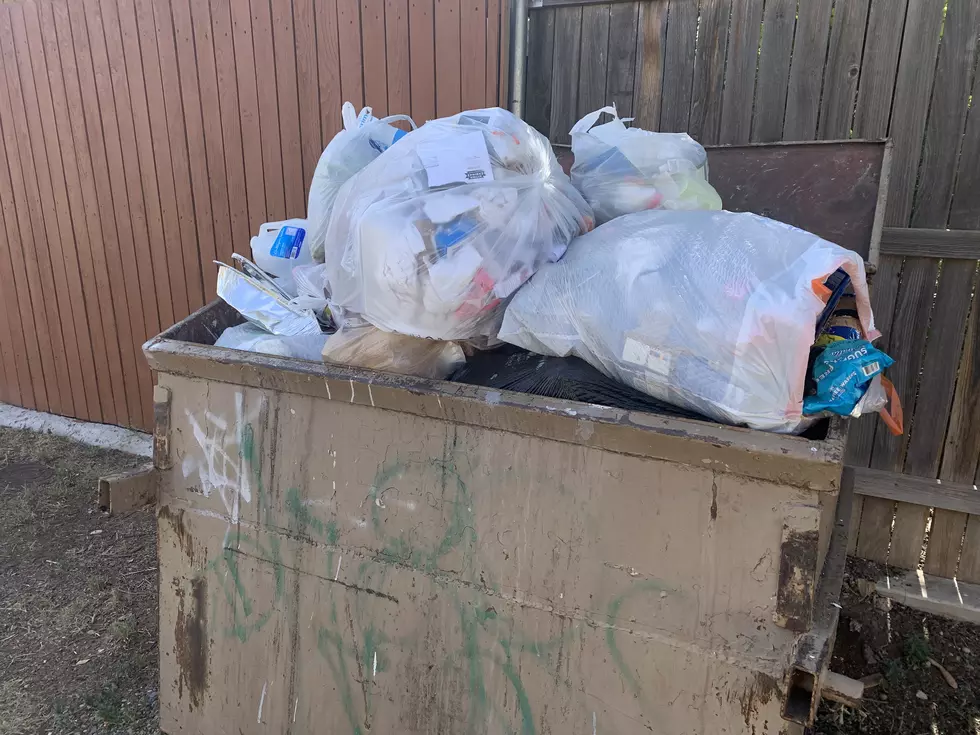 Amarillo Looks Like Trash, Just Take a Drive Down the Alley's
credit: Melissa Bartlett, TSM
I have been saying this for some time. The trash situation was just going to get worse before it gets any better. When they announced the employee shortage and the one-day-a-week pickup of trash I just knew this would be the outcome.
Now, remember if you have one of those nice roll-away trash cans that the city is so big on, you are safe. If you are in the nicer neighborhoods of Amarillo then you don't have to worry. You will still get trash service. If you have a dumpster in your alley you are out of luck. I mean I am just in Bivin's who cares what I think?
I am so against those stupid roll-away trash cans. I always have been. But taking a look in my alley now maybe it's not such a great idea to have dumpsters. Nobody knows how to play nice and the city doesn't care.
I am not alone. I knew I wouldn't be.
This is a rental property of Stephanie's. She is just as frustrated as the rest of us. I currently have trash sitting on my porch just hoping the trash is picked up today.
With the holiday this week, I bet it won't. That means just more trash collecting. With more trash that is just making the fly situation just that much worst. It's ridiculous. The city's solution? Go dump your trash yourself.
I even mowed around my dumpster in the alley. I mean I don't want a nasty letter from the City of Amarillo wanting to charge me when they can't even hold up their end of the bargain and take my trash. Why do I still mow? Because I am better than that. I don't want to be a part of the problem.
The Problem is All the Trash in Amarillo
Oh, and There is A Lot of Trash
Oh, and Sometimes it is Hard to Mow Around the Trash So It Looks Even Worse
On Stephanie's post on Amarillo Buy Sale and Trade the comments show a lot of frustration in our city.
Then they go and say they are putting dumpsters out at locations around town ? They want us to put our GARBAGE in our cars and haul it yo these locations ? NO THANK YOU ! WTH .? - Kirby

 

This is how our alley and trash can looks like. It's terrible  we've called about it and they just give us the run around. Like the drivers should report it also. But pisses me off because even tho neighbors see it's full they still dump the trash  and damn near their whole house - Rachel
There is always this solution. It is hard but we do have to do our part. We just need our neighbors to help and the city to get to hiring people, now.
I always pick up trash in the alley behind my house, if everybody took pride in their neighborhoods it wouldn't look like that, and if there is an elderly person next door pick up the trash for them behind their house. If you want a clean neighborhood, it takes work - Mike
Yes, it does take work. I agree. We will do our part if the city does as well. Please get people hired and treat all of Amarillo the same, whether we have a trash can or a dumpster.
Downtown Amarillo Over The Years
Downtown Amarillo has seen an incredible metamorphosis. Take a look at the photos below to see just how much it's changed--you won't believe the difference.
Top 25 Things To Do In Amarillo
Here are the best things to do in Amarillo.
Untouched by Time: The Historic Homes of Polk Street Then & Now
You know you've entered Amarillo's historic district once you hit the red brick roads of Center City. A unique reflection of past and present, Amarillo's historic homes seem to pose pristinely against the curb.
These large, thoughtfully designed historic homes are part of the most beautiful neighborhoods in Amarillo. But most residents will agree that nothing quite tops the staggering royal beauty of the grand homes of Polk Street. Built by Amarillo's founding fathers, the looming estates of South Polk are a sight to behold.
Check out these stunning comparison photos that show how these gorgeous structures have remained nearly untouched by time.