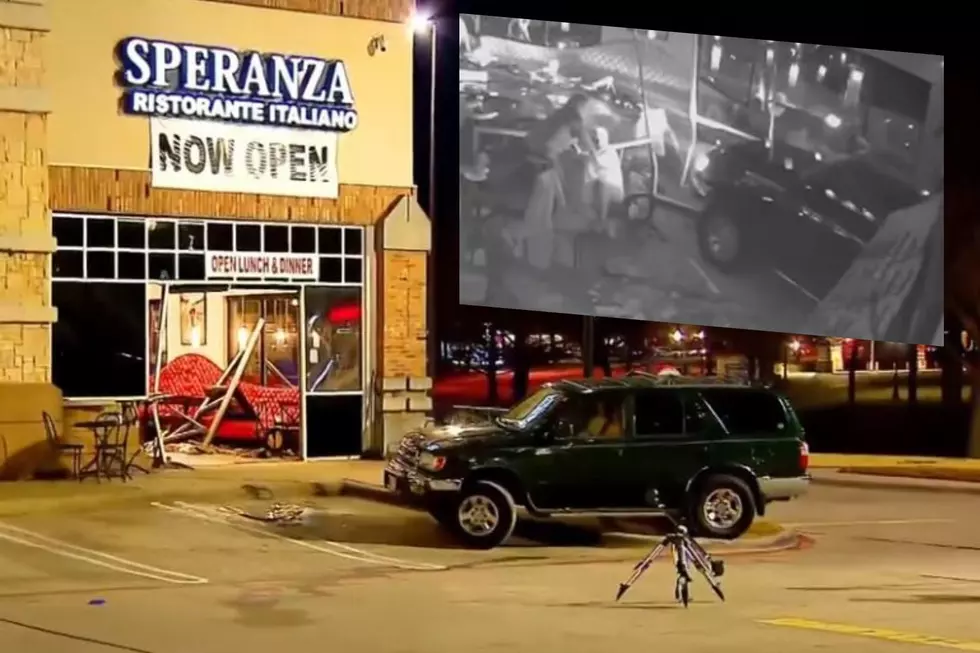 WATCH: SUV Crashes Into Diners At Texas Restaurant, 4 Injured
CBS DFW
Horrifying Security Footage Has Come Out Of An Incident That Happened At North Dallas Restaurant.
Imagine you and your family out enjoying a lovely dinner at a nice restaurant as you're enjoying your food and each other's company, out of nowhere, a vehicle crashes into your table while you're still sitting there. Its almost unthinkable and unimaginable but that's just what happened Thursday night at a Texas restaurant to a group of unsuspecting diners.
Dallas Fire-Rescue responded to the accident at 8:33 p.m. at Speranza Italian Restaurant, located at 18204 Preston Road.
Multiple people were injured after an SUV drove into a restaurant in far north Dallas Thursday night according to CBS DFW. Information is scarce but according to the report, Dallas Fire & Rescue treated people on the scene for minor injuries and four people were taken to local hospitals. Their injuries and conditions are unknown.
Security Footage Revealed The SUV Plowed Through The Front Entrance Into A Table Of Diners.
Video shared on social media by DallasTexas TV showed the moments leading up to and after the incident. A table of about 6 people are looking at menus when the SUV quickly crashes into them knocking them back several feet into the dining area as other terrified diners look on.
Panic quickly ensues as the driver of the SUV backs out of the restaurant but the driver didn't leave the scene and was there when police and emergency personnel arrived. There is no information on the condition of the driver or how the SUV ended up in the restaurant but thankfully no one was killed or seriously injured.
These are Apparently the Top 20 Worst Places to Live in Texas
Well in this case things including crime rate, or vicinity to crime; some may be close worse neighborhoods or adjacent cities. Also the rate of natural disasters was taken into consideration. Hurricanes are not something that'd land on the "pro" side of your pro/con list. Flooding would likely fall on the con side too.
To help you know the places you may want to avoid, or for a list to throw in the face of your cousin who lives in Lubbock, here are the 20 worst places to live:
5 Unit Property For Sale in Carthage, Texas
If you want to be a landlord this might be the perfect opportunity for you to make that happen.
Magnificent 7 Bedroom Home in Marshall, Texas
Check out this stunning 7-bedroom home on 10.56 acres in Marshall, Texas