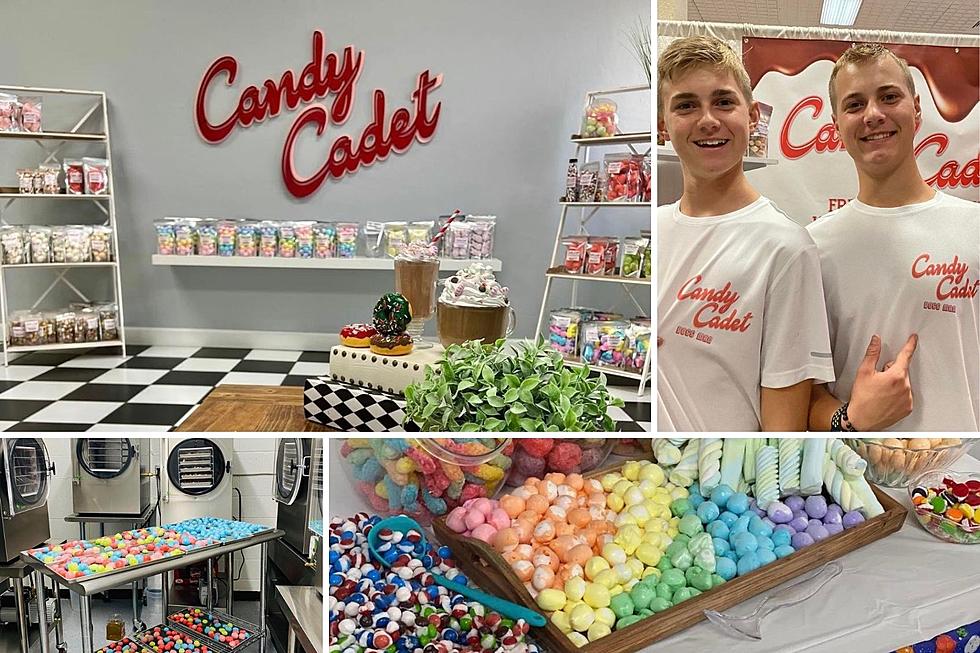 Amarillo Teen Turns Candy Experiment Into Successful Business
Photo Courtesy: Wyatt Willburn
I think the next generation will be amazing because as young adults they have a very creative imagination and alternative ways of putting in a hard day's work.
This is one of those times when these young adults are hardworking and ready to try new things.
Wyatt Willburn is a case in point.  He is a 15-year-old high school student who one day saw a video on the internet on how to make a very unique candy.    He tried it, it worked, and now he has a very lucrative business right here in Amarillo.  He makes freeze-dried versions of your favorite candy treats.
I had a chance to talk with Wyatt about his Candy Cadet business.
Where did the idea come from to freeze-dry candies?
My parents got a freeze dryer for some fruits and vegetables to add to my Mom's food manufacturing business with her spices and I saw that you could freeze dry certain candies on YouTube, I started off with Skittles and experimented with different candies after that.
Where did the idea come from to start selling them?
I took the Skittles to school and allowed people to try them since they were different and new just to get them hooked. Then I decided to take Skittles in little bags and sell them to my friends and teachers, and within 3 days I had already sold $150 worth of product. And, that experience sparked my interest to start my own company.
How long does it take to make a batch of candy?
It takes about 24 hours for a full cycle, this is because of a process called sublimation which turns our favorite sweets into exciting new airy, crunchy delights.
How many times did you try and fail when first making the candy?
When we were in our trial and error phase we messed up a few times, mostly with chocolate products and candy corn. But,  through finding what ingredients didn't work we figured out a system to help us judge what would and wouldn't work.
How many types of candy do you make?
We have a wide selection of candy ranging from our most popular products like Skittles and Jolly Ranchers to Bit'o Honey and Big Hunks. we have something great for everyone. We even have alternative options like our sugar-free taffy which we sell year-round. We have 20ish different types and many different flavors of some of the candies.
Do certain types of candy not work when they are freeze-dried?
Yes, many chocolates do not work in a freeze drier (it just melts), wax-coated candies and candy corns and products like that just turn super hard, also sugar-free caramels did not work.  When they go through the sublimation process they end up exploding in the final dry portion of the process creating a massive mess.
What was your biggest failure when making your candy?
Our biggest fail was when we tried to freeze-dry sugar-free caramels, these candies started off good but in the end phase of the process ended up exploding in the machine which made an undesirable gooey mess.
What was your biggest success?
My biggest success was when I was able to work all summer and save up enough money to buy my car with cash (one of my biggest achievements). I have also been given the opportunity to be on multiple news stations to help promote my candy. I have also been blessed with the opportunity to meet and work with many amazing people.
Will you do special orders?
Yes, depending on how busy we are we sometimes do special orders, we also do a lot of wholesale orders to many stores and companies.
How at the age of 15 are you able to juggle your schedule and still run your business?
Well, I learned quickly in the beginning that I wasn't going to be able to do it by myself so my brother and I went in partnership.  My parents have guided us along the way. I have also had to hire people to help me operate the company. I have a part-time worker who works for me every day. In the summer, I hire teenagers to help with various tasks throughout the store, and my Mom since we share a commercial kitchen takes care of a lot during the day.
Do you see yourself as a candy maker in the future or do you have other aspirations?
Yes, I would like to keep this business running when I am older, but I would also like to go to college to become a game warden.
Was it exciting to be able to open a storefront for your business?
Yes, it was very exciting to be able to open a business, let alone a store, it's a huge milestone and it showed me where hard work can get you.
While I am still learning and growing as a business owner I have learned that the people you surround yourself with can help you achieve your goals or hinder the process and it's important to learn how to manage your time and learn from mistakes you make along the way.
For more information on Candy Cadet you can visit the Etsy Store or Facebook.
12 Photos of Amarillo From the Columbia Space Shuttle
You'll have to squint....but you'll see a few things you'll recognize! Get ready to get a kick out of Amarillo as seen from beyond just a bird's eye point of view!