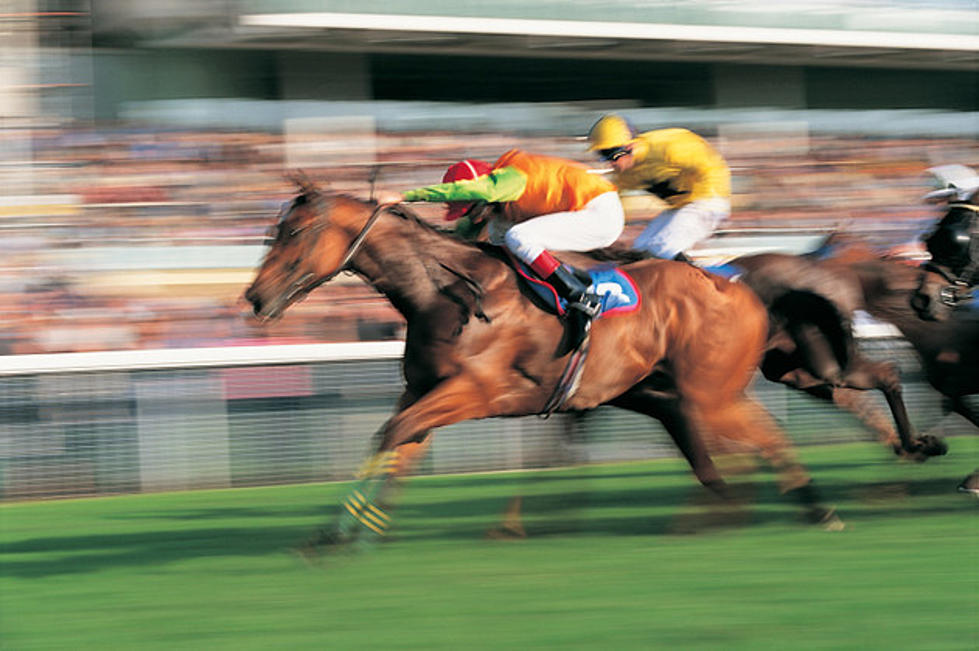 Could Horse Racing Happen In Amarillo? It Was ALMOST Reality.
Digital Vision.
I gotta tell ya, there is nothing I love more than spending some time at a racetrack. No, not a racetrack for cars, I'm talking about a racetrack for horses.
If you've never been, it's absolutely exhilarating. Watching those big creatures break from the gate, the jockeys lining them up for positioning in the final stretch. The rush you get when you see your horse make the final turn and start to pick off the horses he's behind one by one.
See, I used to go to Retama Park in Selma relatively often when I lived in Austin. It was only about a 35-40 minute drive south for me. I could spend HOURS there, whether there was live racing going on or simulcasting. If you're unfamiliar with the sport, simulcasting is all the other tracks in America that are racing and you can bet on them from your home track.
I would take full days off of work when I needed a break, drive down to the racetrack around 10 am, sit down with my forms, and start scouting the horses all over the country. When I said I spent hours there, I wasn't kidding. I'd be there until 4 or 5 pm just constantly watching and betting on races.
Then I moved to Amarillo. One thing I already knew about the city was it was a hub of the equine industry. There's Quarter Horse races, you know; and Amarillo is the home of the American Quarter Horse Association, after all. I was reaching, but I was hopeful.
Alas. My hopes were crushed. It's not legal to bet on horses online in Texas, so my days of placing bets were over.
I started digging into things. To this day, I'm still shocked there's not a track here. However, I did uncover that there once WAS a way to bet on horses in Amarillo...and I'm wishing right now that it was still around.
Back in late 2012, the Saddle Brook Jockey Club opened its doors at a temporary location located on 45th. There was palpable excitement from people in the community as this was the first time anyone in the area was allowed to legally gamble on horse races. The opening of Saddle Brook was supposed to be just the beginning of something bigger, and that's why it was just a temporary location.
The long-term plan for Saddle Brook was to build an actual racetrack here where we'd be able to go out and see live racing along with the simulcasting they were doing at the temporary location. When they presented the idea to open all this, they projected revenue would be $10.3 million per year. That would've been enough to get it done and prove the panhandle area was hungry for live horse racing.
As time went along, the wagers that were being placed were waning, and the projected number they THOUGHT they could hit started to dwindle. Without the stronger numbers they had projected, they were going to have an uphill battle to fight to be able to build and open the first track in the panhandle area.
The temporary license they were granted lasted for two years, and on December 13, 2014, Saddle Brook Jockey Club closed its doors as they were not granted an extension on the temporary license. That didn't affect their ability to build a track here, and their plan was to move forward with it.
At the end of the day, the track was never built, and Amarillo never got its live horse racing. Saddle Brook Park LLC President Richard "Lynn" Alexander said that Texas needed to allow other forms of gambling in order for live horse racing to truly succeed in Texas, and he may not be wrong.
Before I left Austin, there was a lot of chatter that Retama Park was on the verge of having to close its doors, however, they have sustained through it and found other ways to thrive. Maybe sometime in the near future, Amarillo will get the chance to see its live horse racing.
Top 10: These Are Texas' Most Expensive High School Football Stadiums in '22
There's a reason every good high school football movie is based in Texas. Here in the Lone Star State Friday nights are revered and our young men in football pads exalted to legends in their hometowns. In fact as of last year, Texas is only second to Florida (by two players) as the state with the most players in the NFL.
28 Epic Memes About the Big 12 Bustin' Up