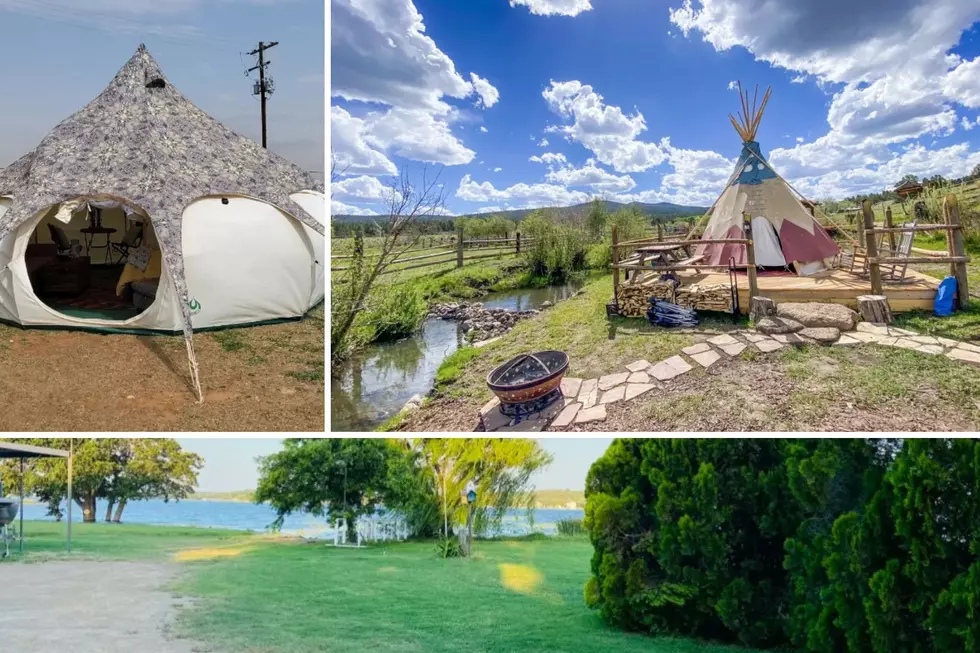 Glamping the Better Way to Camp
HipCamp via Ted Y., Dakota B., Deborah B
Camping is one of those activities that you either love or you hate.  Some people adore it, some hate even the thought.
I'm one of those people who would be great at glamping, just don't ask me to go tent camping unless it's a high-end tent.  I have this thing about not having a bathroom.  That's just me, the squatting in nature just isn't my thing.  Give me an RV, maybe a cabin, a tent with a bathroom and I'm good.
I'm not anti-camping, it can be fun, but I'm anti-using the bathroom outdoors and not having a shower.
I was curious as to where some of the cool glamping places near us and I found some pretty cute ones.
Yes, you do have to drive a little, but I bet they would be worth it.
This little glamping tent is located on an actual lavender farm.  It is located near Lubbock.
It's a cute tent perfect for glamping.  Yes, it doesn't have bathrooms in it, but they are a few feet away.
The cost per night for this cute glamping tent is $85. It will sleep 4.
This cute little house located on Hubbard Creek Lake in Breckenridge, TX is a fun getaway if you're into glamping.
It's got indoor plumbing!
Walk out the backdoor and you're right there at the lake.  Fishing, swimming, all the fun.
The cost is $149 per night and it sleeps 6.
This glamping getaway is located in the mountains of Northern, New Mexico located right next to a creek.
The cool thing about this glamping is you get to sleep in a tipi.  This would bring back memories of me as a kid.  I was involved in an organization and we used to all pile into a giant tipi and camp outdoors.  It was fun, but not as glamorous.
Yes, there is a bathroom available just outside the tipi.
The cost per night is $149.
Here's a fun fact for you from HipCamp, More than a third (36.8%) of American campers rate "interacting confidently with wildlife" as a top camping skill, with other colorful anecdotes including, "Finding a good dive bar," "Sleeping," and "Pooping in the outdoors."
So "pooping in the outdoors" is a skill.  It must be, but I don't ever want to have to worry about having that skill.
This Huge Cabin In Palo Duro Canyon Is Top-Notch Glamping
This cabin is (to us) the definition of "glamorous camping".
This three bedroom rental is tucked away in the Palo Duro Canyon. It's a cabin with serious room, meaning it can fit up to eight guests--a girls trip, family vacation, or any bigger group.
The cabin is available for booking through
glampinghub.com
and the description along with the provided photos is enough to catch the eye of anyone ready to get out of town and away from it all.....without having to go very far.
It's a beautiful place with woodwork throughout, full amenities, and all the mandatory electornics (and WiFi!). If a group of people were to split the cost of their stay between each other, it is without a doubt one of the most budget-friendly options for vacations.
The four day minimum stay required to make a booking is the only drawback to this diamond in the rough of a rental property--but it's nothing a little planning ahead and vacation time can't remedy.
Beautiful and Unique Airbnbs of the Texas Panhandle
The Texas panhandle is home to several unique and beautiful Airbnbs located near downtown Amarillo, Palo Duro Canyon, and even The Big Texan.