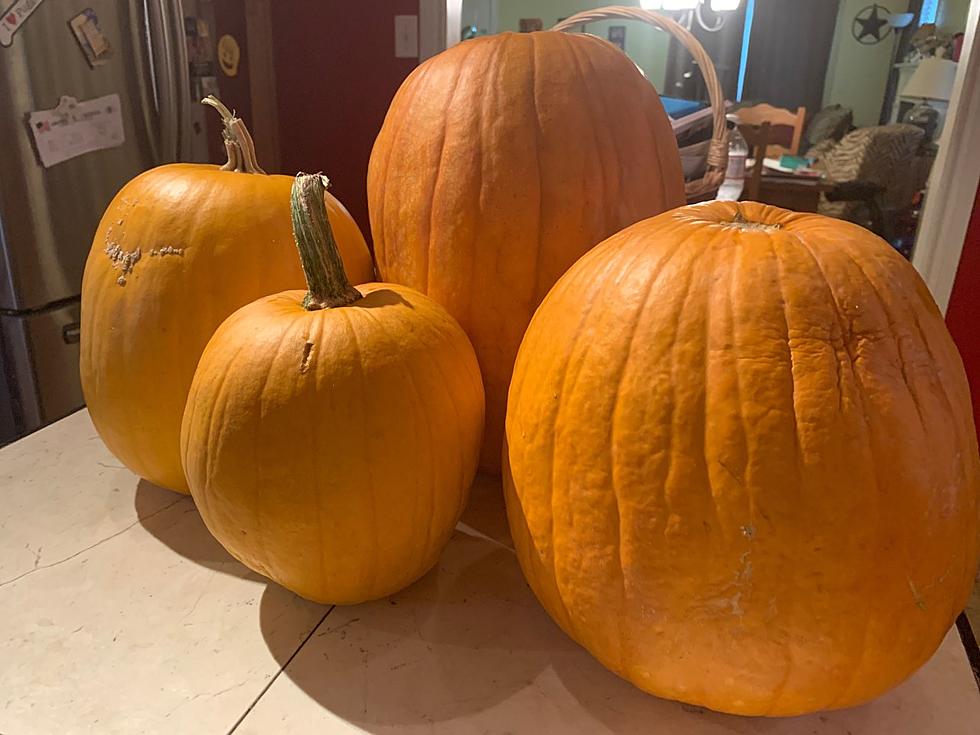 Pumpkin Season Starting Early in Amarillo
credit: Melissa Bartlett, TSM
I am a fan of pumpkin season. I am all in favor of having pumpkin season last all year. I know that it will lose it's magic if it did but I really love pumpkin. I love actual pumpkins. I really do.
I love going to Dairy Queen and getting the Pumpkin Blizzard when it is on the menu. I know you can find all kind of pumpkin spiced things everywhere at certain times of the year. I do like finding new ways to celebrate the pumpkin.
I have a friend who tried planting pumpkins for the first time in his garden. He was successful. He also shares his garden successes with his friends. That means I came home one night to a boxful of vegetable delights. I have received yellow squash, zucchini, onions, peppers, okra, and pumpkins.
I have four on my counter right now. So I looked into recipes that I could use them in. They sound interesting. So I thought I would make and share the outcome. The first one I tried was a Dinner in a Pumpkin.
Small round pumpkin
2 lbs lean ground beef browned with onions, mushrooms and garlic. Drained
To Stir in meat
¼ cup soy sauce
3 Tbsp Brown Sugar
3 cups cooked rice
3 10.75 cans cream of chicken or cream of celery soup
This recipe was so easy. I loved that about this.
Wash the outside of the pumpkin. Cut the top off of the pumpkin and scoop out the seeds and the pulp. Fill the hollowed out pumpkin with the meat mixture and place pumpkin on a cookie sheet. Place in oven and bake at  350 for one hour. Scoop out on plates and make sure you scoop some of the inside pumpkin to eat as well.
I loved everything about this dish. So as you are getting your pumpkins this season maybe grab one or two extra and try this. The kids will love it. They can even decorate the outside of the pumpkin before you bake it. How fun would that be?
CHECK IT OUT: See the 100 most popular brands in America
id="610b2c9dbf219e075a8a5c71"]