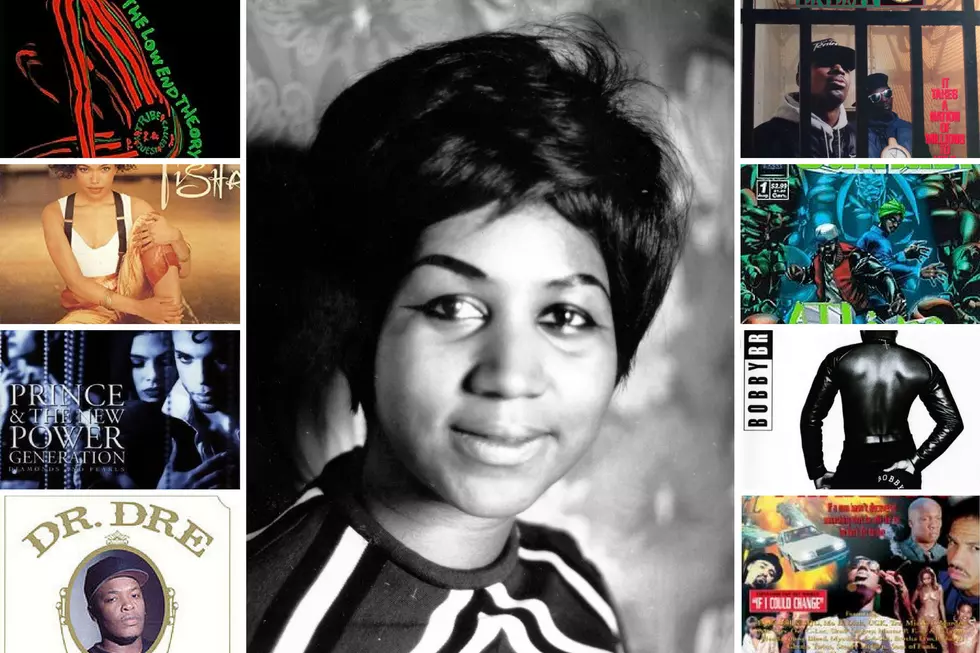 Sampled: Aretha Franklin – "Rock Steady"
Express Newspapers/Getty Images, iTunes
Aretha Franklin's legacy in hip-hop runs as deep as her legacy in soul music.
Franklin was a vocal powerhouse known for belting out classics like "Respect," "Spanish Harlem," and "Chain of Fools." Her 50-year music catalog that will be a treasure by old and new fans for years to come. Her songs were sampled by everyone from Kanye West and Mos Def to Dr. Dre and Snoop Dogg. By sampling Franklin's music, artists within the hip-hop space brought another layer to the genre, giving their tracks more depth, these artists also played an integral part in keeping Franklin's legacy alive.
Produced by Arif Mardin and the late Journalist-turned-music producer Gerald "Jerry" Wexler, "Rock Steady" is an A-side single off her twelfth studio album, 1972's Young, Gifted and Black. The track was written by the soul diva, but she credits Donny Hathaway's organ line and electric piano for giving the song an extra added flow. Initially recorded unedited and undubbed at Criteria Studios in Miami, mixed at Atlantic's studios in Manhattan, the song went through its own travels before getting its final press on vinyl. With drumming from Bernard Purdie —who said he added a reggae vibe after his experience working with Bob Marley in the studio— the song was nothing less than mesmerizing.
From Bernard Purdie who brought in the drums, to Chuck Rainey who laid some the bass guitar, there's an ensemble of brilliant musicians on this single. Tom Dowd was responsible for the Memphis Horns arrangement, and the backing vocals were courtesy of Sweethearts of Soul (Brenda Bryant, Margaret Branch, Pat Smith). The song reached the No. 9 spot on the Billboard 100 and won a gold plaque.
Let's take a look at some of the most notable hip-hop songs that sample "Rock Steady."
Public Enemy "Night of the Living Baseheads" It Takes a Nation of Millions to Hold Us Back (1988)
Public Enemy's "Night of the Living Baseheads" took Aretha Franklin's "Rock Steady" to address the crack epidemic of the '80s. PE flipped Franklin's approach to "Rock Steady" on its head, creating a song that called out systemic oppression against black people. "Rock Steady's" signature horns into a siren that led PE's message.
Wreckx-N-Effect "Rock Steady" Wreckx-N-Effect (1989)
Harlem trio Wreckx-N-Effect is most popular for their 1992 hit "Rump Shaker," but three years earlier the group released their self-titled debut, which featured the B-side single, "Rock Steady." The track isn't big on lyrics, but it's packed with an intense new jack swing groove, filled with live instruments. Franklin's sample only adds to the effect.
A Tribe Called Quest feat. Lord Jamar, Sadat X and Diamond D "Show Business" The Low End Theory (1991)
ATCQ had mastered the art of mixing and producing by the time their sophomore album, The Low End Theory was released in 1992. Franklin's "Rock Steady" blends seamlessly into the track about the shady side of the music business. The stellar Lord Jamar, Sadat X and Diamond D guest appearances are the real stars here with the "Rock Steady" sample blends in with the rest of the interpolations.
Prince and the New Power Generation "Daddy Pop" Diamonds and Pearls (1991)
It probably comes as a shock that the multi-talented musical genius known as Prince would sample. But if you listen closely, you'll hear that "Daddy Pop" off his Diamonds and Pearls album, contains the drum loop used in "Rock Steady. "The New Jack Swing track embodies the vibe of Franklin's original tune. Prince also covered the song for his 2007 live album Indigo Nights, featuring Beverley Knight.
Dr. Dre feat. RBX and Snoop Dogg "Rat-Tat-Tat-Tat" The Chronic (1992)
Dr. Dre used a"Rock Steady" sample for "Rat-Tat-Tat-Tat," which featured Snoop Dogg. Both Dre and Snoop lay down some menacing lyrics over a dark but infectious beat. The West Coast is infamous for their sampling, particularly when it comes to creating a signature G-Funk sound.
Bobby Brown "Humpin' Around" Bobby (1992)
Bobby Brown's New Jack Swing/R&B track adopted Rock Steady's high energy – it's fitting that Franklin's song went well with most tracks made during this era. The production on "Humpin' Around" is solid, and it's not the most apparent sample, but it shows how a sample, no matter how subtle, can create a huge impact.
Tisha Campbell "Round 'N' Round" Tisha (1993)
Tisha's debut album has been compartmentalized in the back of our minds, but she aspired to pursue a full-fledged singing career after success on films like Little Shop of Horrors, School Daze and the hit TV show Martin. While her debut album might be best known for producing the hit single "Push," Franklin's "Rock Steady" served its purpose on the Tisha's b-side "Round 'N' Round," making the song the ultimate cult classic.
OutKast "Jazzy Belle" ATLiens (1996)
ATLiens was Outkast's Magnus opus, which included "Jazzy Belle." Andre 3000 and Big Boi drop smooth lyrics over the Organized Noize-produced beat, which contains the "Rock!" callout from "Rock Steady." Kenneth "Babyface" Edmonds backup vocals standout on the track, particularly when he tells his lady friend to"straighten out your s**t, I'll be with you."
Master P, Young Bleed and C-Loc "How Ya Do Dat" I'm Bout It (1997)
Master P samples Franklin's voice from the chorus of "Rock Steady,"
for his classic song "How Ya Do Dat." P brings one of the most interesting uses of the sample, as all three rappers speak with a drawl, and pour their lyrics over a minimal beat.
The X-Ecutioners "Feel the Bass" Built from Scratch (2002)
"Rock Steady" is the kind of track that pairs well with a scratch, literally. Hence why it must have been a dream when the NYC DJ collective The X-Ecutioners found this gem. You'd have to be a hardcore aficionado to appreciate "Rock Steady'" versatility, but not every track can be used in this capacity. The X-Ecutioners break it down to a science.
Snoop Dogg "The Bidness" R&G (Rhythm & Gangsta): The Masterpiece (2004)
One of the best uses of Franklin's track, the Soopafly-produced "The Bidness" wasn't a single off Snoop's seventh studio album, though it should have been. Ultimately, it was the tracks about love, relationships and droppin' it like it's hot that got all the play, but Snoop gives us memorable punch lines on here, like "Half dog, half gorilla, b**ch Donkey Kong."
Aretha Franklin Year by Year: 1961-2017 Photos