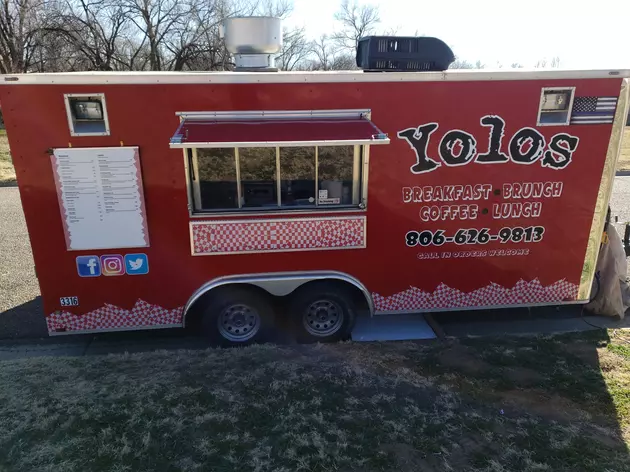 Review: Yolo's Breakfast Burritos
YOLOS Food Truck via Facebook
I hung out at Yolo's a week ago to watch Raina Haung rip apart Yolo's breakfast challenge. There was so much food there and she made it seem like nothing. The only thing trying to keep her down was the downpour we experienced last weekend.
So as I was watching her I took special note about the breakfast burrito. Now at that point I hadn't tried Yolo's. I will admit that. I thought I would maybe grab something from there after the food challenge. When the rain soaked us all I just ran to my car and got home to dry off.
I went back and watched some video and something about that burrito had me intrigued. I was a big fan of Judy's place and their breakfast burritos. Since they have been gone I have been looking for one that could take it's place.
The burrito at Yolo's looked like it was close to what I remember from Judy's. So when my daughter was in town last week I asked her if she wanted me to pick us up breakfast. I told her about the burritos and she said she had noticed that they were similar so yes get her one.
So I called in the order. I then headed to 45th and Georgia to pick it up. Yolanda was waiting for me with a big smile on her face. I had asked her about the hot sauce and I mentioned trying to find a new burrito since Judy's closed down. She let me know that the hot sauce was made fresh every morning. So I asked for a couple extra.
I got home and we started the taste test. I got the 2 meat burrito and added green chile. My daughter just wanted a sausage burrito. I tried mine with and without hot sauce. I wanted to experience the flavor.
The size of the burrito was great. I don't know if I could have eaten two of them like Raina did....oh and then wash them down with a stack of French toast and a cinnamon roll.
I loved that the tortilla was soft and fresh. Not too soft that it couldn't handle all that was stuffed in it. Nah it was good. I loved the hot sauce. My daughter liked it better without. I would say that, though, they are not just like Judy's they are one that I would have again. They were good. My daughter said she too would love breakfast there again when she is in town again.
I did love the hot sauce but I also loved the jalapeno hot sauce that Judy's served. It literally was chopped up jalapenos. I don't know how else to describe it. It was good. So breakfast at Yolo's was a success. Even if they didn't have my hot sauce...they still had a good one that is totally fresh. So I finished up my meal very happy.
Sixth Street Over The Years - WOW! What A Change!
Sixth Street in Amarillo looked incredibly different not too long ago. Have you forgotten what it looked like in 2007? Buckle up, the ride is incredible.