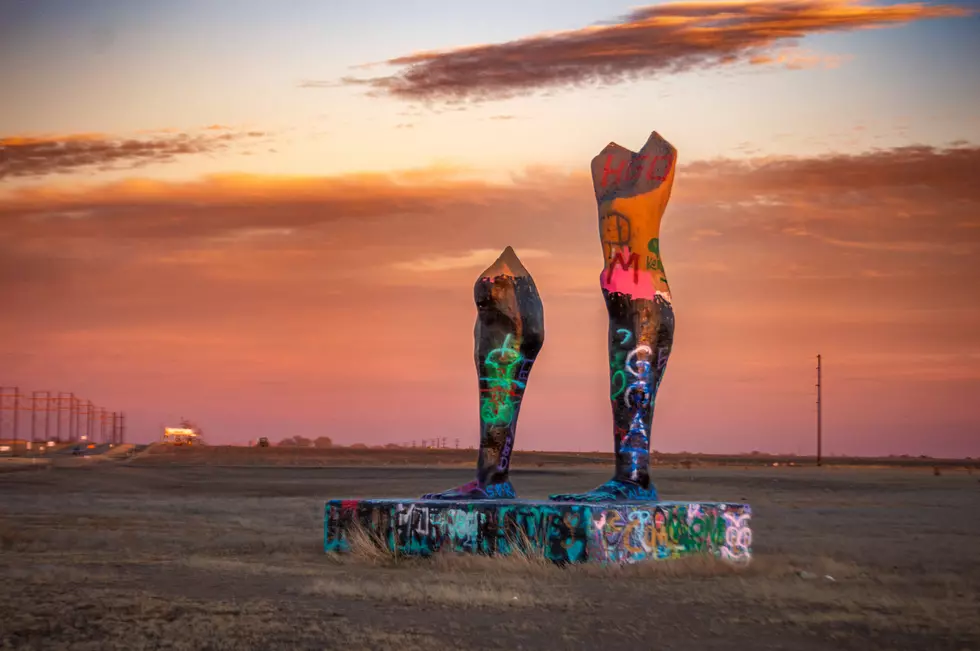 The Real Story of the Gigantic Legs Between Canyon & Amarillo
Sarah Clark
I love it when I stumble across something on the Internet that makes me go "a-ha!"
Amarillo has its fair share of strange and quirky things. One of my personal favorite oddities is the first one that I ever saw: The Giant Legs of Ozymandias.
The giant legs were carved by local artist, Lightnin' McDuff, (with funding from He-Who-Should-Not-Be-Named) and erected in 1996.
If you know about the legs, then you're probably familiar with the two pieces of pop culture associated with it: that one Breaking Bad episode and that one poem we were forced to read in English class.
But there's one more neat piece to the puzzle of the Giant Legs you'll find off the I-27 between Amarillo and Canyon. Stay with me, I've got the true origin story of those legs coming right up.
The Poem & The Poet Who Wrote It
It was a lazy Sunday afternoon and I was helping my niece with her English assignment, an analysis of the poem Ozymandias by Percy Bysshe Shelley.
Now, I had read the poem way back in my school days, but as I stared at the photo used in the video and listened to the opening lines:
I met a traveller from an antique land
Who said: "Two vast and trunkless legs of stone
Stand in the desert....."
It clicked.
I'd seen several Ozymandias-inspired pieces of artwork before, but it never occured to me that it could easily be a real thing that inspired Shelley's poem, which in turn inspired McDuff's giant legs.
So I put my Egyptian thinking cap on.
Rameses II & The Ramesseum in Luxor
A little bit of Googling that and then a little bit of googling this led me to unveil where this Ozymandias business all began: Egypt. See, Ozymandias is the Greek name for the pharaoh Ramses II. When Ramses died, he was buried in a fancy burial place called the Ramesseum. Very important. Very holy.
Some time in the early 1800s, Egyptology got real popular. French troops in Egypt discovered the now-crumbling Ramesseum and announced it to be the the same "Tomb of Ozymandias" that scholars had written about long ago.
The English caught wind of the discovery and managed to haul most of the ruins back to England by 1818 and put it out on display. The crowds went wild and gathered to see the fragment of an ancient statue fragment missing its legs.....including that of Percy Bysshe Shelley.
The timing of it all is too perfect. I imagine that the poet viewed the unintact statues that had been brought back from Egypt and with their absence of legs, his mind began to work with words.
In fact, you can see for yourself how the legs and feet of Ramses II, aka Ozymandias, have been left behind.
The entire temple of Ramesseum is in ruins with a desert all around. Much like as in a certain poem.
Kinda eerie huh?
LOOK: The Enigmatic Art Oddity of Cookie Time
This quirky and whimsical place is tucked away behind a fence off US-287N and Cherry Street. While it may seem like a head-scratcher at first, you'll soon find yourself drawn to the unique and memorable displays at Cookie Time.