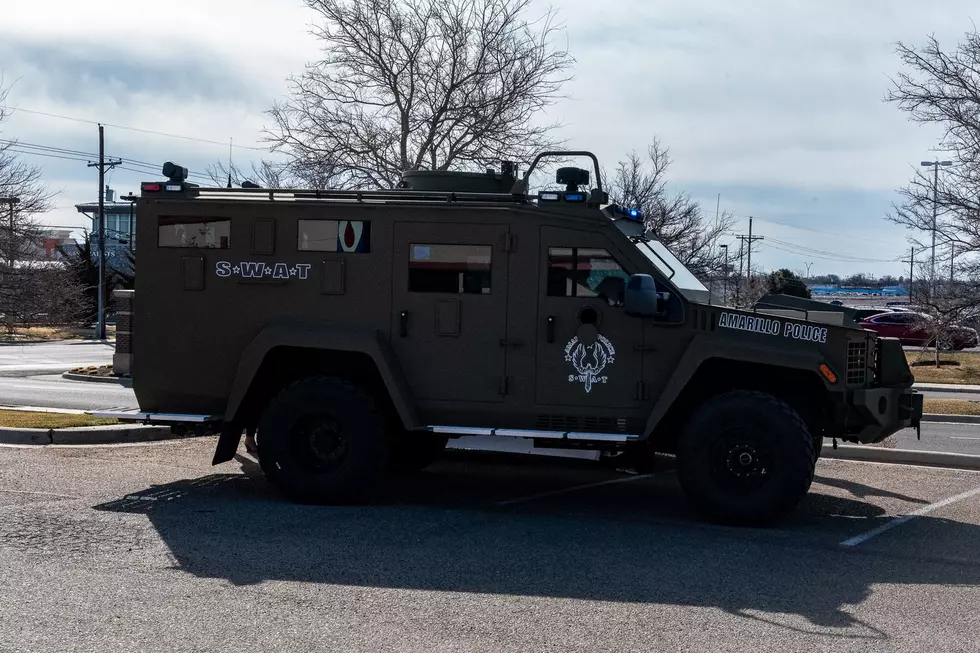 Amarillo And Its Growing SWAT Problem
Michael J. Rivera, Townsquare Media
So crime is nothing new in Amarillo, this we know. Between the drug busts, theft, and shootings we aren't exactly strangers to seeing stories about crime in the 806.
It's the SWAT team I feel we rarely see, and let's be honest, that's a good thing. They only come out when it's some serious stuff. Or at least, that's how it's supposed to go.
Lately though, the SWAT team been hitting the streets on a regular basis. They've been busy little bees over the last few months, i tell you.
October 25th
On October 25th, the SWAT team made an appearance at a home in the 4600 block of Buffalo Trail to serve probation revocation warrant at 1 a.m. That seems a little extreme to me, I suppose. News reports say that two individual were taken into custody without incident.
I'm not entirely sure why the SWAT team was necessary but I digress.
October 21
Then, only just last week, we had the incident at the La Quinta Inn where a man held a woman hostage before surrendering to the SWAT team that surrounded him.
Now that's a situation where we most certainly need the SWAT team to come out to. Key word: hostage. Hostage situations are always SWAT-worthy.
June 21
When police attempted to pull over a suspected stolen truck, the 36-year-old driver got out and fled on foot. He then made forcible entry into a home on the 1900 block of Adams street and held two women hostage for two hours.
SWAT team negotiators were able to establish communication and talked with one of the victims. When the individual finally agreed to come out of the house, he changed his mind at the very last minute and attempted to steal a vehicle out of the garage.
SWAT quickly swarmed him and placed him under arrest. Again, key word here is: hostages. When you have a hostage, that's when those bad boys in black need to come out. Agree? Disagree?
June 16
And finally, on June 16 the SWAT team was called out to the neighborhood of Hamlet Elementary School to assist APD in arresting a juvenile. In this case, officers had knocked on the door of a residence in an attempt to locate and apprehend said juvenile. They heard people inside but no answer at the door.
They allegedly smelled marijuana emanating from the home, and obtained a narcotics search warrant on those grounds. It's not clear when exactly the SWAT team was called in to assist in arresting the juvenile (who did surrender to SWAT). There was no mention of the juvenile brandishing a weapon or threatening harm to another person....so why were they brought in?
I'm sure there's more to the story, but it did give me pause.
Have you ever seen the SWAT team in full gear ready to react? It can be a scary scene.
What exactly makes a situation SWAT-worthy? I suppose we'll never know.
Amarillo On 'America's Most Wanted'
I was surprised to find out recently that we also have a bit of a history with the show America's Most Wanted.
Digging through old news articles, I found several separate occasions where Amarillo and America's Most Wanted crossed paths. It makes me wonder if there are some that I've missed.
Amarillo's Biggest Drug Busts in 2021.....So Far
Amarillo can be a rowdy place with some lawless characters. Here's some of the biggest drug busts made in Amarillo for 2021 so far....and a little bit of the backstory.
Let's just say that these folks are in t-r-o-u-b-l-e.
Note from editor: An indictment is not a conviction. All individuals shown below who have not appeared in court for a judgement are to be presumed innocent until proven guilty.