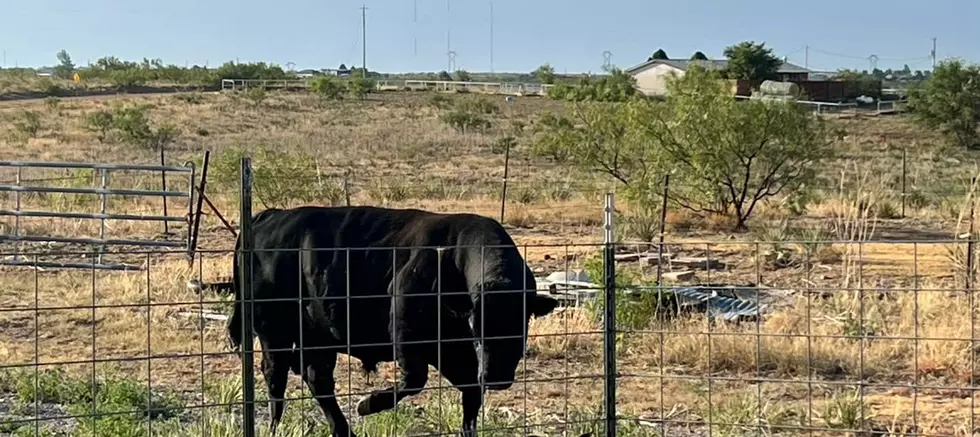 Lost Bull in River Road, Is This Your Big Fella?
Photo Courtesy: Raemie Ware
When you live in an area like Amarillo and outside of the city, you find yourself in a rural area surrounded by livestock.
Occasionally, you get a stray cow, horse, goat, etc. pop up on your property and you are easily able to find the owner.
However, there is a rogue bull that has been showing up on the property of a River Road resident.  The resident went to social media to voice their concern.
This bull has been around my house twice now. Potter county woke us up at 4 this morning cause they were trying to get it. If this is yours please let me know! I will be calling potter county tomorrow if it's on my property again so they can come get it and take it somewhere so it's safe. It has been in the road a few times. There has been a few people that were contacted about it but it don't belong to them.
Bulls can be stubborn and some won't stay in their own pastures.  They go out on adventures, but there comes a time, when an animal of this size can become dangerous.  The family that keeps having a run-in with the bull lives at the corner of Givens and Snowball Trail in River Road.
The property owners say that the bull is very pretty and friendly for the most part.
If this bull is yours, they really want you to come to get it.   If no one claims the bull, then the Potter County Sheriffs will come to take it into custody and it will be placed in a new permanent home or worse.  We don't want the worse to happen to this fella.
Most bulls and livestock are usually tagged and branded so the owners are easy to find, but it doesn't seem so for this big fella.
Is this bull yours? If so, he needs to be grounded to his pasture or pen. No more walks in the country searching for his heifer.
UPDATE 7/25/2022, 1 PM: The bull is now in the custody of the Potter County Sheriffs.
I'll Gladly Pay You Tuesday For a Hamburger Today
These Might Be the Most Dangerous Intersections in Amarillo
Traffic stinks.
These intersections stink harder.
Don't hesitate to sound off if we missed any. We're happy to add more Amarillo collision hotspots to this list of shame.